CDM Smith Donates to United Way Virginia Beach Tragedy Fund and 4 Paws for Ability
News Item
CDM Smith Donates to United Way Virginia Beach Tragedy Fund and 4 Paws for Ability
September 12, 2019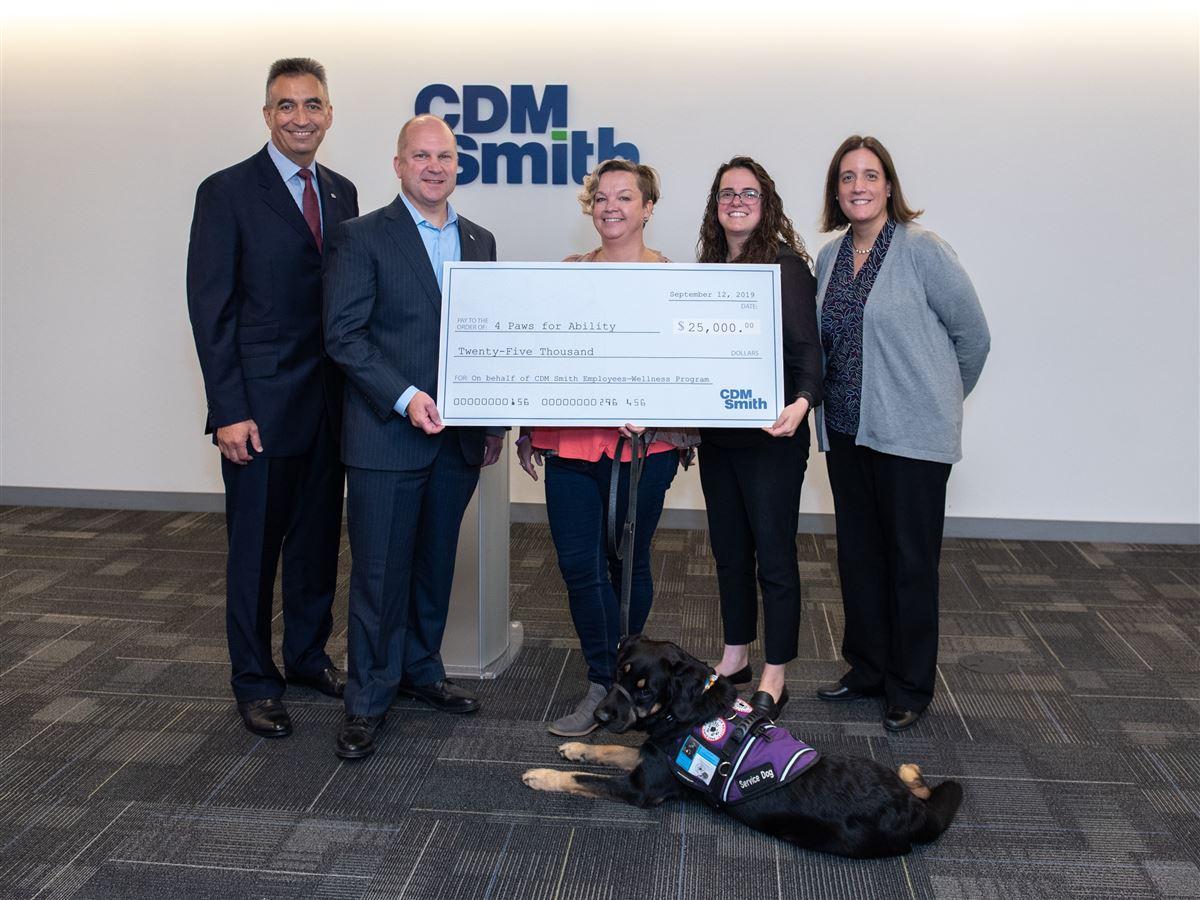 Pictured (l-r): CHRO Carlos Echalar,  Chairman & CEO Tim Wall (CDM Smith); Amy Sturtevant Lopez (4 Paws for Ability); Amanda Teixeira , Maria Mastrangelo (CDM Smith); (bottom)  service dog Octavius. 
Boston, MA – Participants in CDM Smith's employee wellness program made two more donations possible as part of the firm's award-winning wellness program. CDM Smith selected the United Way of South Hampton Roads as the recipient of $25,000. Employees participating in the wellness program voted to give $25,000 to 4 Paws for Ability.
Unthinkable events forever changed the Virginia Beach community, directly impacting our client and our employees, tragically affecting the lives of people and friends we work with every day. While we are doing everything we can locally to assist our client and colleagues in recovering from this tragedy, the entire CDM Smith family came together and wanted to do more. In response to this desire to help, CDM Smith donated the second quarter Executive Leadership Team donation of $25,000 to the United Way of South Hampton Roads Virginia Beach Tragedy Fund.
The second orga­ni­za­tion to receive a donation was 4 Paws for Ability, in the amount of $25,000. 4 Paws for Ability enriches the lives of children with disabil­i­ties by training and placing quality, task-trained service dogs. This provides increased inde­pen­dence for the children and assistance to their families. The orga­ni­za­tion also works with veterans from recent conflicts who have lost the use of their limbs or their hearing while in active combat.
The firm's wellness program rewards employees, spouses and partners for healthy behaviors and accom­plish­ments, with the overall goal of a healthier, more productive, happy and focused workforce. Employees participate in onsite biometric screenings, team challenges, races and exercise classes, and track behaviors that contribute to their overall well-being. The firm sets quarterly goals for partic­i­pants to strive for, resulting in charitable donations of up to $50,000 per quarter.
CDM Smith is a privately owned engineering and construc­tion firm providing legendary client service and smart solutions in water, environment, trans­porta­tion, energy and facilities. Passionate about our work and invested in each other, we are inspired to think and driven to solve the world's envi­ron­men­tal and infra­struc­ture challenges.
Visit us at cdmsmith.com
###
Our Wellness Program Donations Since 2017
Video
Watch the Donations Ceremony
https://www.facebook.com/CDMSmith/videos/509434966291224/
Watch our Facebook LIVE recap of the September 12, 2019 Wellness Program Donations Ceremony. 
WATCH HERE