CDM Smith's Employee Wellness Program Continues to Make a Difference with $50,000 in Donations to The Ali Forney Center and Collaboratory
News Item
CDM Smith's Employee Wellness Program Continues to Make a Difference with $50,000 in Donations to The Ali Forney Center and Collaboratory
August 8, 2023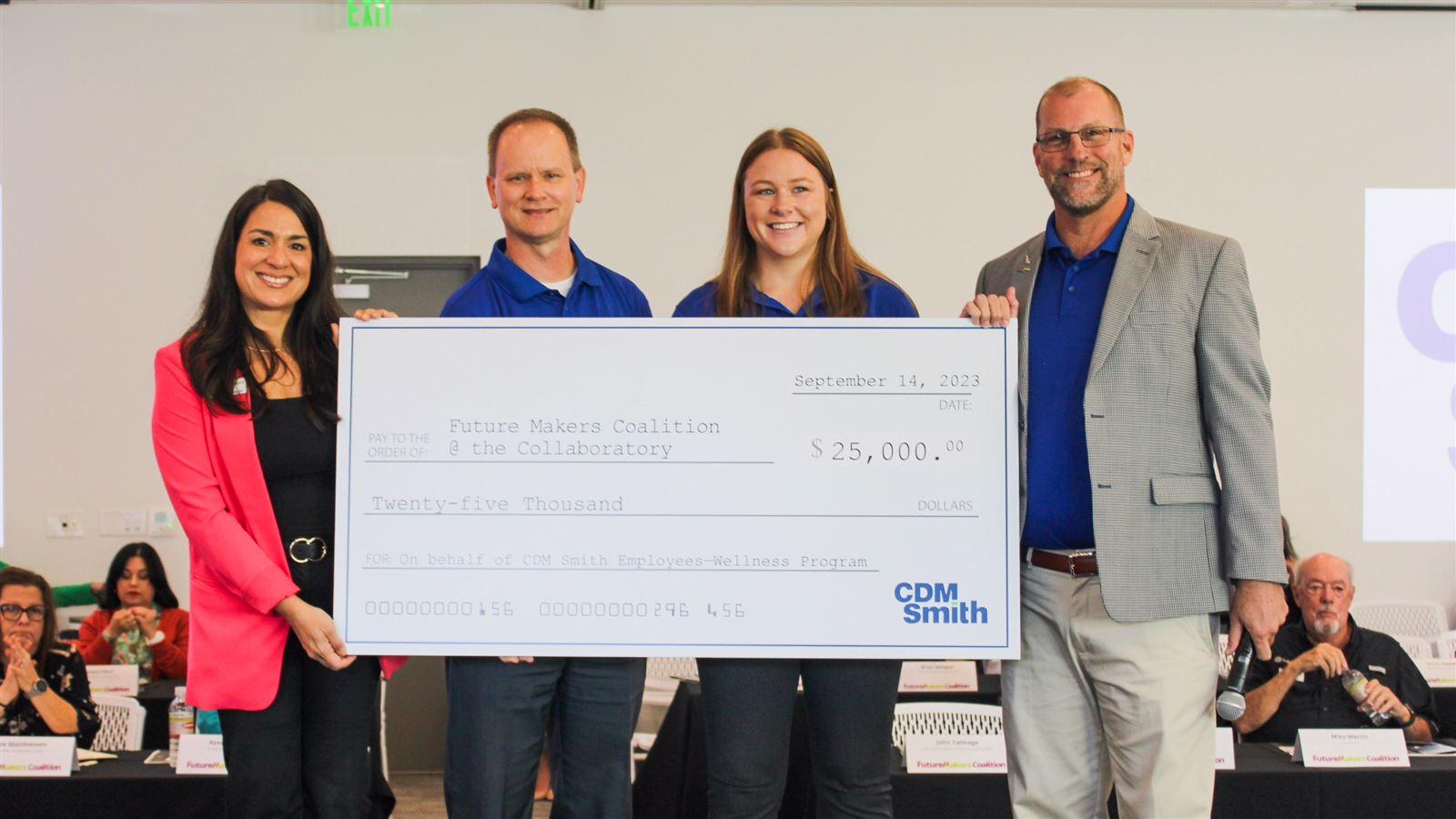 Boston – CDM Smith donated another round of $50,000 to two charities as a part of the firm's award-winning Wellness Program. Donations of $25,000 were made to both The Ali Forney Center and Collaboratory.
The firm's direct donations were made possible by CDM Smith's Wellness Program and the points earned by employee participants during the first quarter of 2023 through programs and activities that support the importance of both physical and mental well-being. Since the Wellness Program's start in 2017, employee participation has resulted in over $1 million in charitable donations.
Here's how the donations are making an impact…
Ali Forney Center
The Ali Forney Center is committed to preventing home­less­ness among LGBTQ+ youth and supporting them as they become independent adults. From providing food and shelter to job readiness training, The Ali Forney Center creates oppor­tu­ni­ties for LGBTQ+ youth while offering safety in troublesome times. As the largest agency dedicated to LGBTQ+ homeless youths in the U.S., they assist more than 2,000 youths per year through their 24-hour drop-in center. CDM Smith employees' contri­bu­tion of $25,000 will help fund The Ali Forney Center's mental health program including mental health services, crisis care management and art therapy.
The Ali Forney Center Thanks CDM Smith
Collaboratory
Collaboratory is focused on building a better future for all members of the Southwest Florida community. The organization achieves this by inspiring collaborative leadership, acting as a philanthropic guide and providing grants and training to nonprofit partners. Collaboratory joins forces with people from all walks of life, such as business, education, government, nonprofit and philanthropy, and with community leaders and residents. CDM Smith's $25,000 donation will benefit Collaboratory's efforts to transform the workforce by upskilling and reskilling community members where only 42% of working adults currently have the credentials required for in-demand jobs.
Collaboratory Thanks CDM Smith
Our Wellness Program's Impact since 2017…
organizations supported by our employee wellness program
54
organizations supported by our employee wellness program
$
donated through our employee wellness program
$
1.15M
donated through our employee wellness program
CDM Smith is a privately owned engineering and construction firm providing legendary client service and smart solutions in water, environment, transportation, energy, and facilities. Passionate about our work and invested in each other, we are inspired to think and driven to solve the world's environmental and infrastructure challenges.