News Item
CDM Smith-Supported FASTLANE Grants Won by ODOT and LaDOTD
October 28, 2016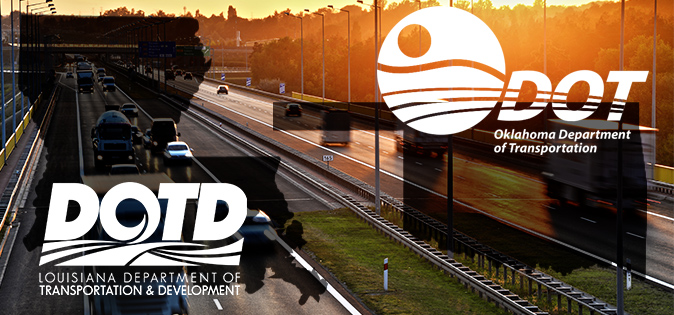 BOSTON—In July, the United States Department of Trans­porta­tion announced its inaugural round of FASTLANE grant winners, including two CDM Smith-supported appli­ca­tions from the Oklahoma Department of Trans­porta­tion (ODOT) and Louisiana Department of Trans­porta­tion and Development (LaDOTD). Out of 212 applicants for the FAST Act-authorized grant program, 18 grants were awarded, totaling nearly $760 million to fund freight trans­porta­tion projects throughout the United States. These two FAST Act-funded projects will help improve our nation's freight trans­porta­tion infra­struc­ture.
ODOT was awarded a FASTLANE grant for $62 million, to improve U.S. 69/75, a heavily trafficked bi-national freight corridor connecting Mexico to Canada. The corridor currently carries 28,500 vehicles per day, 22 percent of which are carrying freight, and is projected to increase to 53,600 daily vehicles by 2045. The improvement project will reduce road traffic delays, improve a Union Pacific Railroad main line that runs parallel to the highway, and help reduce the histor­i­cally high commercial vehicle accident rates on this corridor. A cost benefit analysis performed by CDM Smith revealed that moving traffic signals and other obstacles would result in a $3.78 billion reduction in travel time expenses for road users, as well as many safety benefits.
This project will have positive economic impli­ca­tions for Bryan County, which hosts many manu­fac­tur­ing firms, agri­cul­tural businesses and the McAlester Army Ammunitions Plant. As detailed in the application, the project will help stimulate economic growth for the Choctaw Nation, which runs a number of businesses in Bryan County. U.S. 69/75 is an "economic lifeline" for the Choctaw Nation, whose businesses attract 3.4 million visitors annually. "This project reflects how important the rela­tion­ship is between efficient freight movements and the economic compet­i­tive­ness of a region," said Melissa Ziegler, the CDM Smith principal project manager. Ziegler and a team of CDM Smith employees worked alongside ODOT to collect the traffic, road, railway and economic data necessary to prepare the grant application. The awarded FASTLANE grant will help fund more than 50 percent of the $120 million project.
LaDOTD also received a FASTLANE grant for $60 million, which will be used to help fund the recon­struc­tion of a 10-mile stretch of I-10 near Lafayette, Louisiana. CDM Smith was wrapping up its support of LaDOTD's 2015 Freight Plan when asked to assist with the development of a FASTLANE grant application. The awarded project's focus area of I-10 was built in the 1960s and, despite pavement joints that are out of alignment, had never been renovated or repaired. Through travel demand forecasting, CDM Smith identified that there would be significant benefits to pavement recon­struc­tion and adding an additional lane to the roadway. With a lot of the preliminary engineering work for the pavement recon­struc­tion and additional lane already completed by LaDOTD and more than half of the funding for that work in place, this project was essentially "shovel ready," according to CDM Smith associate and project manager Don Vary, upon submitting the FASTLANE grant application.
Part of the National Highway Freight Network, I-10 was an attractive candidate among the grant applicants. By accessing a database called Transearch, CDM Smith discovered that a significant portion of the freight movement on I-10 serves national connections, including trucks on route to California and Texas. In 2015 alone, I-10 carried 120 million tons of freight worth $204 billion. Moreover, 33 percent of all vehicles on I-10 are trucks carrying freight, and LaDOTD is expecting significant growth in these numbers over the next 20 to 50 years. According to Don Vary, a side benefit of the $60 million grant is that it will "free up the department to work on smaller projects that will have important safety benefits for motorists in several other areas of the state."
CDM Smith provides lasting and integrated solutions in water, environment, trans­porta­tion, energy and facilities to public and private clients worldwide. As a full-service engineering and construc­tion firm, we deliver exceptional client service, quality results and enduring value across the entire project life cycle.