News
DC Water's Innovative Biosolids Management Program Honored with FIDIC Award of Special Merit
8 November 2017
On October 2, 2017, the Inter­na­tional Federation of Consulting Engineers (FIDIC) announced that the District of Columbia Water and Sewer Authority's (DC Water) Biosolids Main Process Train project has earned the orga­ni­za­tion's Award of Special Merit. CDM Smith and its design-build joint-venture partner PC Construc­tion accepted the award during the FIDIC Inter­na­tional Infra­struc­ture Conference in Jakarta, Indonesia.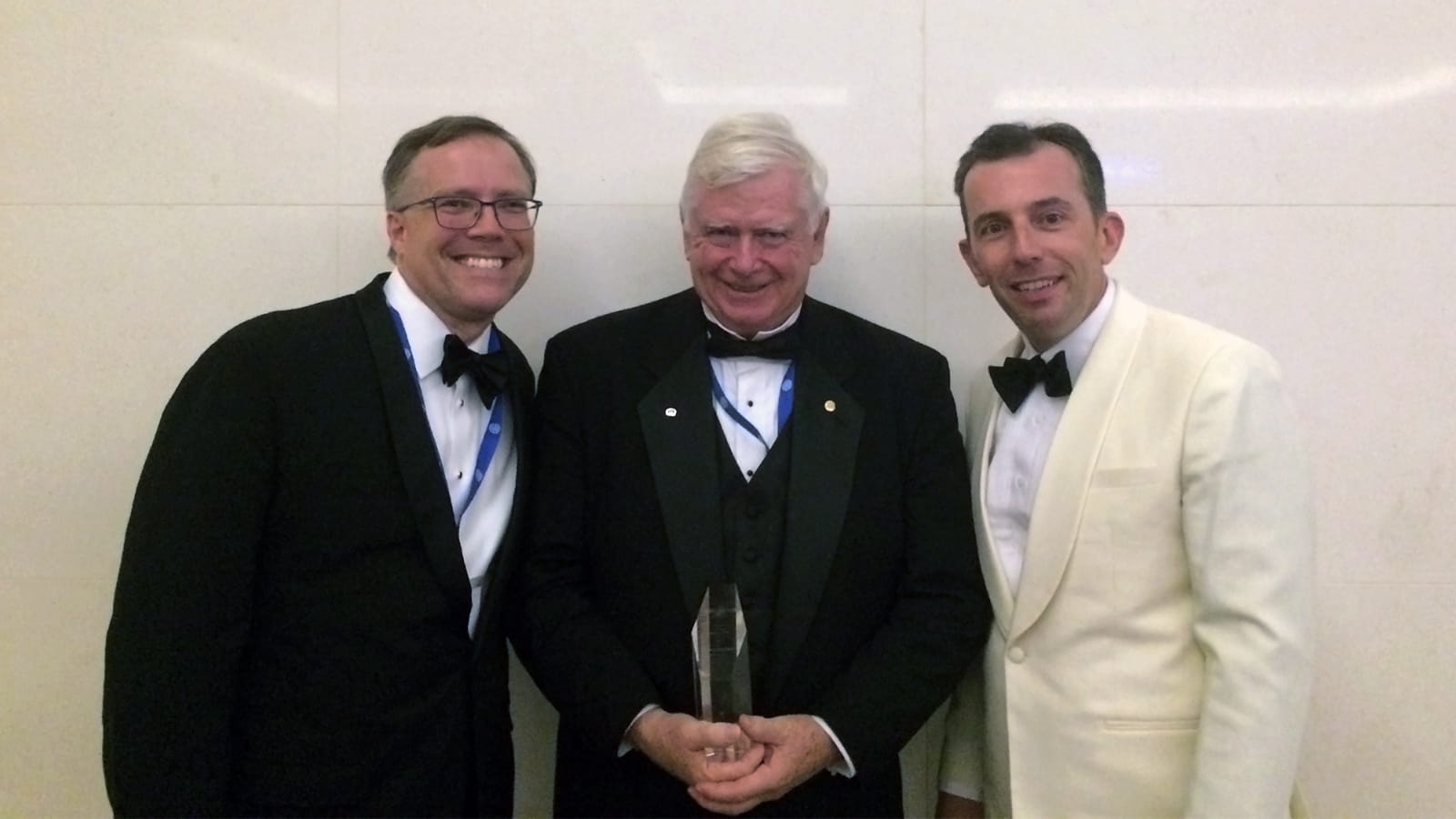 CDM Smith's Adam Reeder,  Bill Howard and Mike Geer accept  the FIDIC Award of Special Merit.
The FIDIC Awards celebrate outstanding engineering projects that have been completed in the last five years. The orga­ni­za­tion's Award of Special Merit recognizes a project that has helped world economies and communities to develop a higher quality of life. Award nominees must demonstrate innovation, profes­sional excellence, trans­parency, integrity, sustain­abil­ity and respect for the environment. This award is the latest in a number of honors that recognize DC Water for its exemplary biosolids management program. CDM Smith's design of the District's Blue Plains advanced wastewater treatment plant utilized a leading-edge biosolids treatment technology that worked to reduce operating costs, improve energy efficiency and enhance the biosolid product quality and marketabil­ity. The facility was the first in the United States to incorporate Cambi's thermal hydrolysis process (THP) technology to more easily capture and reuse methane from the wastewater treatment process into clean energy. Upgrades also provided consid­er­able additional economic and envi­ron­men­tal benefits; DC Water is able to apply its biosolid product for landscaping use and biogas-generated power, thus optimizing its resources while also generating new ones. Today, DC Water has the largest operating THP system in the world.
"The ability to work on innovative projects like this, helping our clients reclaim resources, reduce impacts on the environment and save money at the same time is hugely satisfying. Recognition from prestigious orga­ni­za­tions like FIDIC is the icing on the cake," says client service leader Dave Schwartz. FIDIC is the Inter­na­tional Federation of Consulting Engineers. Its members are national asso­ci­a­tions of consulting engineers. Founded in 1913, FIDIC is charged with promoting and imple­ment­ing the consulting engineering industry's strategic goals on behalf of its Member Asso­ci­a­tions, and to disseminate information and resources of interest to its members. FIDIC produces publi­ca­tions which include information for consulting engineers, project owners and inter­na­tional development agencies, contract documents and client-consultant agreements as well as inter­na­tional best practice guides. Today, FIDIC membership covers 100 countries of the world.
CDM Smith provides lasting and integrated solutions in water, environment, transportation, energy and facilities to public and private clients worldwide. As a full-service engineering and construction firm, we deliver exceptional client service, quality results and enduring value across the entire project life cycle.