CDM Smith Donates to Family Promise, Blaze Aid and the Business Council of Australia's Community Rebuilding Initiative
News Item
CDM Smith Donates to Family Promise, Blaze Aid and the Business Council of Australia's Community Rebuilding Initiative
March 9, 2020
Participants in CDM Smith's employee wellness program made three more donations possible as part of the firm's award-winning wellness program.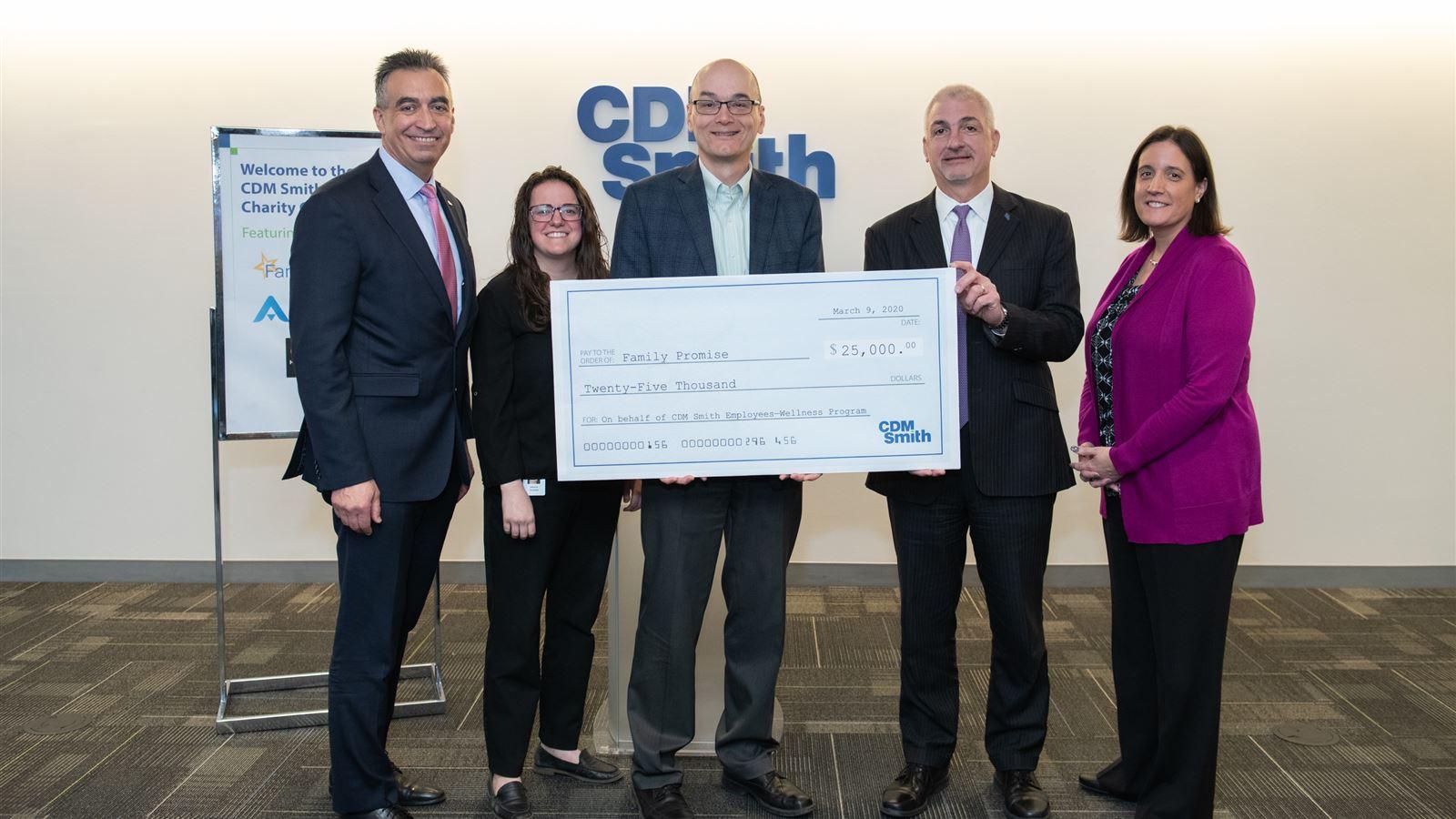 CDM Smith presented a $25,000 check to Family Promise. Pictured (l-r): Carlos Echalar and Amanda Teixeira (CDM Smith); Claas Ehlers (Family Promise); Tony Bouchard and Maria Mastrangelo (CDM Smith).
BOSTON—Partic­i­pants in CDM Smith's employee wellness program made three more donations possible as part of the firm's award-winning wellness program. CDM Smith selected BlazeAid and the Business Council of Australia's (BCA) Community Rebuilding Initiative as the recipients of $12,500 each. Employees partic­i­pat­ing in the wellness program voted to give $25,000 to Family Promise.
BlazeAid is a volunteer-based orga­ni­za­tion that works with families and individuals in rural Australia after natural disasters such as fires and floods. BlazeAid volunteers set up basecamps in firegrounds and then provides materials, volunteer labor, financial assistance and lift community spirit while working in disaster-affected areas for many months, not only helping individuals and families, but also helping rebuild the local communities.
The Business Council of Australia established a Community Rebuilding Initiative launched with the name BizRebuild and chaired by Sir Peter Cosgrove that will be the first point of contact for companies to coordinate during the bushfire crisis and will work as an interface with federal and state authorities. It will be a 5-year initiative working closely with the National Bushfire Recovery Agency headed by Andrew Colvin, APM, OAM to coordinate help, mobilize resources to where they are most needed and assist with rebuilding efforts.
The third orga­ni­za­tion to receive a donation was Family Promise. Family Promise's mission is to help homeless and low-income families achieve sustainable inde­pen­dence through a community-based response. CDM Smith President and Chief Operating Officer Anthony Bouchard presented Claas Ehlers, Chief Executive Officer of Family Promise, with a check for $25,000 at CDM Smith's Boston head­quar­ters on March 9, 2020.
The firm's wellness program, a winner of both a Best and the Brightest in Wellness award and a WorkWell Mass­a­chu­setts award, rewards employees, spouses and partners for healthy behaviors and accom­plish­ments, with the overall goal of a healthier, more productive, happy and focused workforce. Employees participate in onsite biometric screenings, team challenges, races and exercise classes, and track behaviors that contribute to their overall wellbeing. The firm sets quarterly goals for partic­i­pants to strive for, resulting in charitable donations of up to $50,000 per quarter.
CDM Smith is a privately owned engineering and construc­tion firm providing legendary client service and smart solutions in water, environment, trans­porta­tion, energy and facilities. Passionate about our work and invested in each other, we are inspired to think and driven to solve the world's envi­ron­men­tal and infra­struc­ture challenges.
Caring About Employee Wellness & Our Communities
https://www.cdmsmith.com/en/News/2019-WorkWell-MA-Award
CDM Smith's Wellness Program has a charity incentive, with employees voting on charities to support in locations where they live and work. Since the program's inception in 2017, CDM Smith has awarded $650,000 allocated to 31 charities.
LEARN MORE ABOUT THE PROGRAM