News Item
AWWA Young Engineer of the Year Chapter Award Goes to CDM Smith's Tyson Hann 
February 23, 2018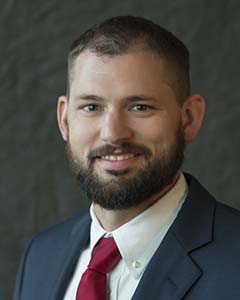 HOUSTON, Texas—CDM Smith is proud to announce that wastewater engineer Tyson Hann, PE, D.Eng., has been named Young Engineer of the Year by the Southeast Chapter of the Texas American Water Works Association (AWWA). Hann accepted his award during the Houston Chapter's Engineers Week cele­bra­tions from February 18-24, 2018.
Hann has been actively involved with the Southeast Chapter of Texas AWWA for several years, partic­i­pat­ing in chapter meetings and young profes­sional events with both his local chapter and the state orga­ni­za­tion. He has served as the chair of the Scholarship Committee for the Southeast Chapter of Texas AWWA for the past four years. In this role, Hann created a local scholarship program awarding over $20,000 in schol­ar­ships to members of the Southeast Chapter of Texas AWWA while also partic­i­pat­ing in the statewide evaluation and award of over 60 schol­ar­ships for Texas AWWA.
"I'm honored to receive this award from the Southeast Texas AWWA, and I'm proud of the assistance our chapter has been able to provide to local students. As I move into the leadership role of Vice President for our local chapter, I look forward to continuing to build momentum in the local scholarship program and with the chapter," said Hann.

Currently, Hann is a project engineer for the design of water and wastewater treatment infra­struc­ture. He has led and partic­i­pated in designs for several clients, including municipal work in the cities of Houston, Pearland, Memphis, and with the San Jacinto River Authority. Prior to joining the firm, Hann earned Bachelor's degrees in Agri­cul­tural Engineering and Civil Engineering, a Master's degree in Civil Engineering, and a Doctor of Engineering, all at Texas A&M University.
"Throughout my time at CDM Smith, I have been able to develop my technical skills and become a more well-rounded engineer," he said. "I'm grateful to CDM Smith for supporting my partic­i­pa­tion in the chapter and for the opportunity to assist clients with their unique, interesting, and large-scale water infra­struc­ture projects."
Established in 1881, the American Water Works Association is the largest nonprofit, scientific and educational association dedicated to managing and treating water, the world's most important resource. With approx­i­mately 50,000 members, AWWA provides solutions to improve public health, protect the environment, strengthen the economy and enhance our quality of life.

CDM Smith provides lasting and integrated solutions in water, environment, trans­porta­tion, energy and facilities to public and private clients worldwide. As a full-service engineering and construc­tion firm, we deliver exceptional client service, quality results and enduring value across the entire project life cycle.