News Item
Transportation Structures Expert Joshua Orton Joins CDM Smith
April 30, 2018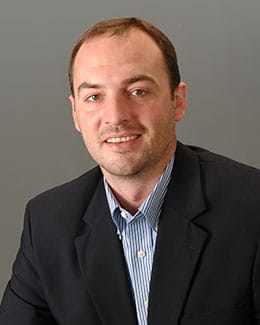 ATLANTA, Georgia—Joshua Orton, PE, has joined CDM Smith as a senior project manager and structural engineer. Orton brings 14 years of experience in the transportation sector. His specialties include the design of structures ranging from pedestrian bridges to segmental bridges, evaluation and analysis of distressed structures, construction engineering, bridge location studies, and stakeholder coordination and facilitation. Well-versed in the bridge planning and design in Georgia, Orton will use his skills to help our clients in the region solve their complex bridge challenges.
"Josh Orton is a national leader in transportation structural engineering who is helping to shape the future of structural design for steel and precast bridges," said Bob Hamm, CDM Smith vice president and transportation area leader for the southeast United States. "CDM Smith is excited to welcome him to our Atlanta office, where he will provide exceptional client service to the Georgia Department of Transportation and other agencies throughout the southeast."
Orton currently serves as the director of the American Society of Civil Engineers (ASCE) of Georgia's technical activities. He previously served as secretary, vice-chair and chair of ASCE Georgia's Structural Engineering Institute and has volunteered as a leading expert in bridge construction with the society's Young Members Group to fund and build a pedestrian bridge in Nicaragua. Orton has also been named 2018 Engineer of the Year in Private Practice by Georgia Engineers Week, 2014 Young Engineer of the Year by the Georgia Engineering Alliance and 2013 Young Engineer of the Year by ASCE.
Orton is also an active member of the AASHTO-NSBA Steel Bridge Collaboration—a partnership between the American Association of State Highway and Transportation Officials and the National Steel Bridge Alliance, with representatives from state departments of transportation, the Federal Highway Administration, academia and industry groups focused on steel bridge design, fabrication and inspection—where he is helping to prepare a steel cross-frame design handbook, erection guide specifications and other industry documents.
CDM Smith provides lasting and integrated solutions in water, environment, trans­porta­tion, energy and facilities to public and private clients worldwide. As a full-service engineering and construc­tion firm, we deliver exceptional client service, quality results and enduring value across the entire project life cycle.
Modern Mobility
Our transportation experts are dedicated to improving mobility now and into the future, providing innovative solutions to navigate our clients' toughest challenges and help them advance their infrastructure for the long haul.
LEARN MORE