News Item
CDM Smith Chairman & CEO Timothy B. Wall Receives Alumni Professional Leadership Award from Wentworth Alumni Association
September 13, 2018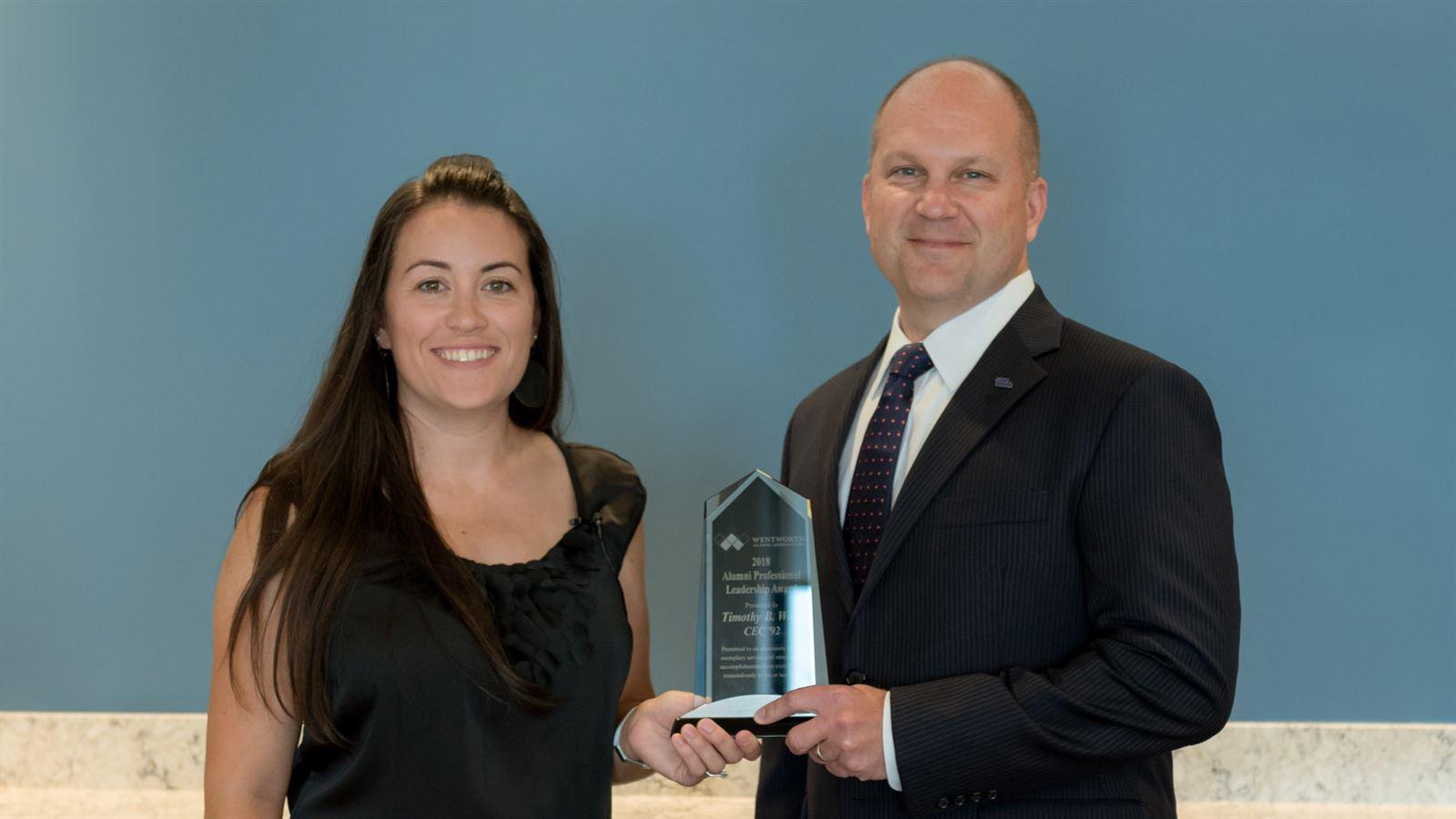 Tim Wall, CDM Smith Chairman and CEO, accepts the 2018 Alumni Professional Leadership Award from Stephanie Holland, Vice President of Alumni Engagement for the Wentworth Alumni Association.
BOSTON—CDM Smith's Chairman and Chief Executive Officer, Tim Wall, has received the Alumni Professional Leadership Award from Wentworth Institute of Technology (WIT). This annual award is presented to those whose exemplary service and remarkable accomplishments have contributed tremendously to their field. This award recognizes Mr. Wall's 28-year contribution to the architecture, engineering and construction industry, as well as his demonstrated excellence in leadership and performance.
In January, Wall was appointed Chairman and CEO of CDM Smith, succeeding Steve Hickox, fellow WIT alumnus and 2017 recipient of the Alumni Professional Leadership Award. Prior to becoming Chairman and CEO, Wall was the President and Chief Operating Officer, where he directed the operations and strategy execution of the $1.3 billion global engineering and construction firm. He has led the firm's Federal Services Group, providing solutions to departments and agencies of the U.S. federal government, including the Bureau of Reclamation, the Departments of Defense, Energy, Homeland Security and Transportation; the Environmental Protection Agency; and the Federal Emergency Management Agency.
Wall holds a bachelor's degree in civil engineering technology from WIT, a master's in environmental engineering from Tufts University and an MBA from Boston College.
CDM Smith provides lasting and integrated solutions in water, environment, transportation, energy and facilities to public and private clients worldwide. As a full-service engineering and construction firm, we deliver exceptional client service, quality results and enduring value across the entire project life cycle.