News Item
Renewable Energy Visitor Center Earns LEED Platinum Certification
June 16, 2016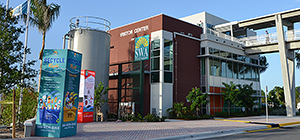 WEST PALM BEACH, Florida—CDM Smith has earned a LEED® Platinum certi­fi­ca­tion for the Visitor Center designed and built as part of the Solid Waste Authority of Palm Beach County's 3,000 ton-per-day mass burn renewable energy facility, which started commercial operations in July 2015.
The three-story Visitor Center includes meeting space and interactive displays through which the Solid Waste Authority's county-wide integrated solid waste management programs are highlighted, along with the story and technology of the mass burn waste-to-energy facility. As part of the experience, visitors are able to traverse the award-winning sky bridge to the main control room area of the process building while observing the main components of the mass burn facility.

To attain LEED Platinum, the Visitor Center applied stormwater management best practices maximizing quantity and quality of stormwater, augmented by permeable plaza pavement, regionally appropriate landscaping and a rainwater capture system with an intensive green roofing system. The building is designed to maximize daylight and was built using recycled and regionally-sourced materials to reduce its carbon footprint. A 45 KW photo­voltaic system was also incor­po­rated into the parking canopy reducing annual energy usage by 90% and resulting in energy costs of less than $900 a year, when combined with conser­va­tion strategies.

About the LEED Certi­fi­ca­tion

The LEED rating system, developed by the U.S. Green Building Council (USGBC), is the foremost program for buildings, homes and communities that are designed, constructed, maintained and operated for improved envi­ron­men­tal and human health performance. More than 74,000 commercial projects are currently partic­i­pat­ing in LEED, comprising more than 14 billion square feet of construc­tion space in all 50 states and more than 150 countries. Four LEED Platinum projects exist in Palm Beach County, as well as 27 in the state of Florida and 620 across the nation.

CDM Smith provides lasting and integrated solutions in water, environment, trans­porta­tion, energy and facilities to public and private clients worldwide. As a full-service engineering and construc­tion firm, we deliver exceptional client service, quality results and enduring value across the entire project life cycle.