CDM Smith's National Interstate Tolling Analysis Tool Wins IBTTA 2016 Toll Excellence Award
News Item
CDM Smith's National Interstate Tolling Analysis Tool Wins IBTTA 2016 Toll Excellence Award
August 18, 2016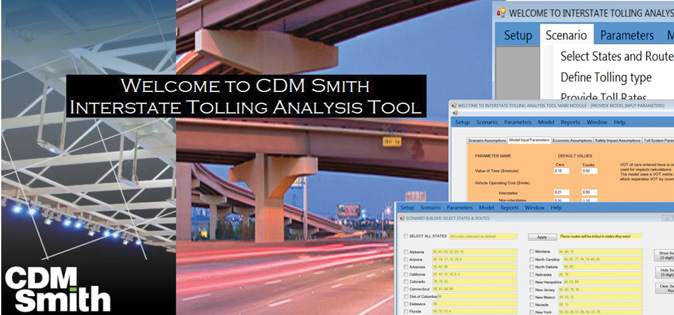 BOSTON—CDM Smith is proud to announce that our National Interstate Tolling Analysis Tool has been named by the Inter­na­tional Bridge, Tunnel and Turnpike Association (IBTTA) as its Private Sector Innovation award winner in the 2016 Inter­na­tional Toll Excellence Awards competition. IBTTA's awards recognize the best projects and programs in the inter­na­tional tolling industry. The Private Sector Innovation award is given to an IBTTA private-sector member whose project has furthered the mission of IBTTA and the tolling industry by demon­strat­ing relevance to contem­po­rary and future tolling industry needs, providing lessons, strategies and techniques that can be used or adapted, or reflecting a significant contri­bu­tion to the industry. Congrat­u­la­tions to all of the winners, who are listed on IBTTA's website. IBTTA will present the awards on Monday, September 12, 2016, during its 84th Annual Meeting and Exhibition in Denver, Colorado.
The tool is designed so that anyone with basic knowledge about tolling, but not necessarily a traffic modeling background, can analyze tolling scenarios.
The National Interstate Tolling Analysis Tool was initially developed by CDM Smith for the Federal Highway Administration as part of a major study and later expanded through the firm's Research and Development program. This unique computer model is possibly the first and only of its kind and can be used as a sketch-level planning resource by users without formal knowledge of traffic modeling to estimate the traffic impacts and revenue potential of tolling all or segments of the currently toll-free Interstate System."The tool is designed so that anyone with basic knowledge about tolling, but not necessarily a traffic modeling background, can analyze tolling scenarios," said Zubair Ghafoor, CDM Smith senior transportation planner and the tool's developer. "A variety of parameters can be manipulated—tolling by route, state or individual location, as well as on major interstate bridges based on length criteria established by the user—and it has the ability to incorporate large-scale, updated data sets seamlessly to ensure estimates are up to date and accurate."
With an intuitive interface, the tool allows users to test scenarios on the entire Interstate Highway System in 48 U.S. states as well as most other competing major roads and highways and currently tolled facilities. The tool uses a national traffic zone system comprising more than 3,000 counties in the nation—many of which were disaggregated in larger urban areas—yielding a total of nearly 7,500 traffic zones. It also includes information from National Bridge Inventory for major bridges on the Interstate System. For any proposed interstate tolling scenario, the tool helps users estimate how much revenue will be generated, capital costs to implement tolling, operation and maintenance costs, various impacts on toll-free facilities and the economic value of those impacts.
"This tool is a good example of the integration of several large national datasets in a computational environment to provide meaningful information to its users," said Ghafoor. "We are continuing to enhance and add features to this tool to provide best value to our clients and the tolling community at large and are humbled to receive this award from IBTTA. We look forward to continue delivering technological solutions that address modern transportation challenges."
CDM Smith provides lasting and integrated solutions in water, environment, transportation, energy and facilities to public and private clients worldwide. As a full-service engineering and construction firm, we deliver exceptional client service, quality results and enduring value across the entire project life cycle.