News Item
Keerthi Palanisamy Wins AWWA Competition for Students and Young Professionals 
July 17, 2017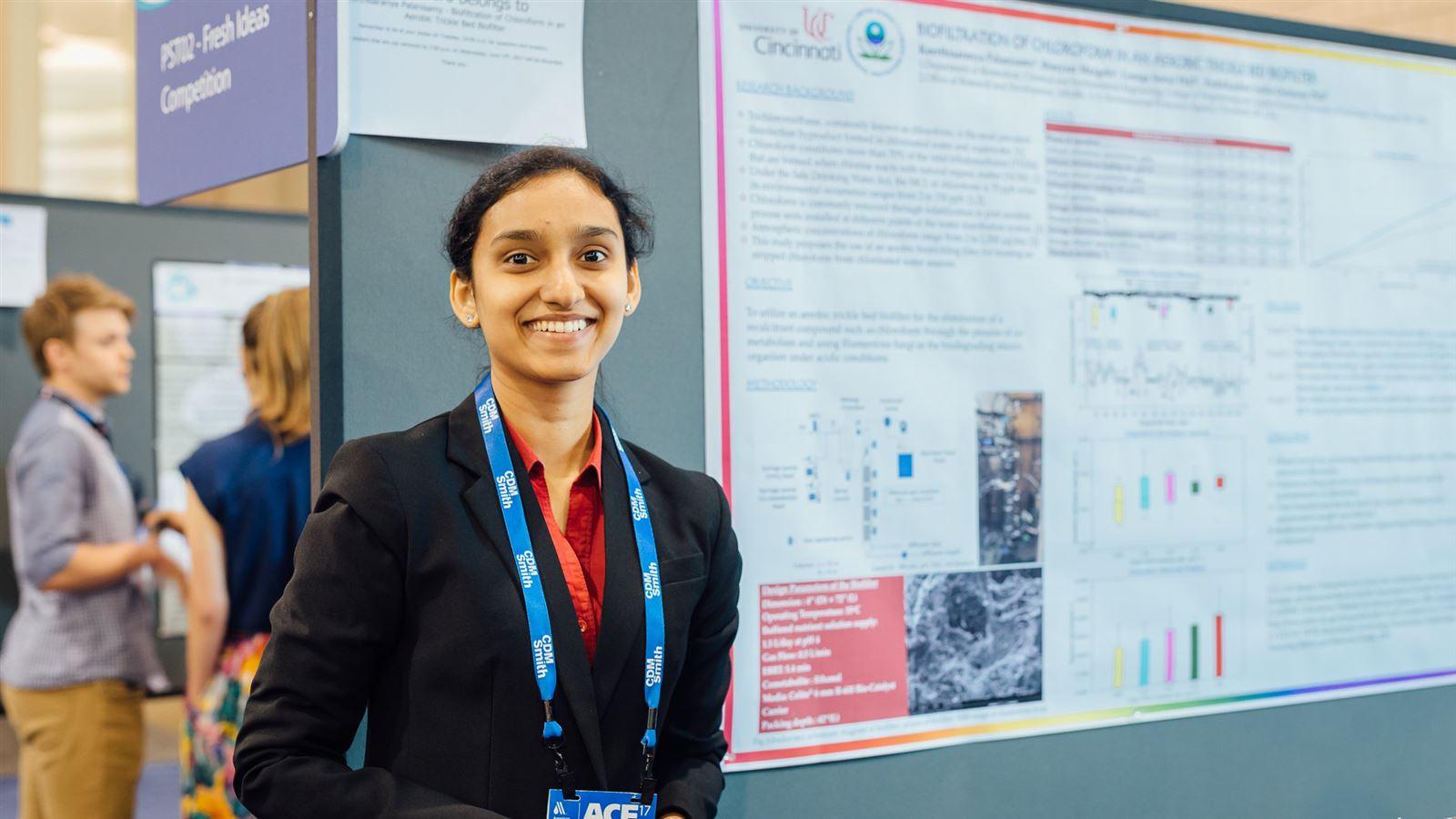 Ashley Waldron Photography
CINCINNATI – CDM Smith is pleased to announce that Keerthi Palanisamy, an environmental engineer based in Cincinnati, has won first place in this year's American Water Works Association (AWWA) Fresh Ideas Poster Competition. Palanisamy was presented with the award during AWWA's Annual Conference & Exposition (ACE) in Philadelphia on June 13, 2017.
Palanisamy's winning poster idea, entitled "Biofiltration of Chloroform in an Aerobic Trickle Bed Biofilter," explored the use of aerobic biotrickling filters to treat chlorination disinfection byproducts at drinking water treatment facilities. As first place winner, Palanisamy was awarded $500 and the opportunity to write an article for Journal AWWA.
As a child growing up in India, Palanisamy became interested in conservation projects by observing her surroundings. Her passion for environmental research progressed in high school, when she noticed the water body near her high school becoming increasingly vulnerable to urban pollution. Palanisamy took interest in the local government's steps to clean up the water body, and says it was this personal journey that led her to a career in water treatment and environmental awareness. So, after earning her Master of Science degree at the University of Cincinnati in 2016, Palanisamy began her career at CDM Smith.
"I've always been passionate about building a sustainable future for the next generation, which is why I'm excited to be part of a company that is so well-known for its dedication to cutting-edge research and innovation," says Palanisamy.
Palanisamy is currently assisting in storm water management projects, offering permitting and consulting support services to the Hamilton County Storm Water District in Ohio. In the future, Palanisamy says she's excited to expand her skillset by working on various projects throughout the firm. "I'm looking forward to participating in a variety of projects, not only in the water industry but also in research and development," she says.
Established in 1881, the American Water Works Association is the largest nonprofit, scientific and educational association dedicated to managing and treating water, the world's most important resource. With approximately 50,000 members, AWWA provides solutions to improve public health, protect the environment, strengthen the economy and enhance our quality of life.
CDM Smith provides lasting and integrated solutions in water, environment, transportation, energy and facilities to public and private clients worldwide. As a full-service engineering and construction firm, we deliver exceptional client service, quality results and enduring value across the entire project life cycle.