News Item
Katy O'Brien-Connell Named Member of the Year by the WTS Central Virginia Chapter
October 10, 2018
RICHMOND, Virginia—CDM Smith is pleased to announce that Katy O'Brien-Connell has been named 2018 member of the year by the WTS (Women's Trans­porta­tion Seminar) Central Virginia Chapter. A member of WTS since 2013, O'Brien-Connell has helped to grow the chapter, encouraging members with diverse profes­sional levels and backgrounds to connect with one another. "I've seen our chapter grow in strength and numbers," she said. "It's a great place for people to learn more about industry topics outside their usual realm and get involved." With her leadership, the chapter has brought in industry leaders for discussions and facilitated events benefiting local businesses and agencies through educational workshops.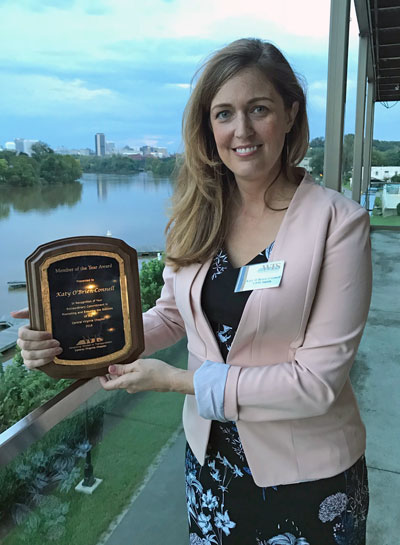 O'Brien-Connell currently serves as head of the chapter's newsletter committee. Her latest project is leading a website update that will revamp the chapter's information delivery and provide visitors with new materials. "One of the best parts of being a WTS member is encouraging other women and profes­sion­als to get involved in a community outside of the workplace. We're working hard to provide members and visitors with an improved, interactive experience with updated content that will help us accomplish this."
At CDM Smith, O'Brien-Connell currently leads a proposal and marketing team responsible for developing many of the firm's transportation proposals, presentations, and marketing materials. She is involved in transportation strategy and business development efforts across the U.S.
CDM Smith provides lasting and integrated solutions in water, environment, trans­porta­tion, energy and facilities to public and private clients worldwide. As a full-service engineering and construc­tion firm, we deliver exceptional client service, quality results and enduring value across the entire project life cycle.
Modern Mobility
https://www.cdmsmith.com/en/Client-Solutions/Focus-Areas/Transportation
Our transportation experts are dedicated to improving mobility now and into the future, providing innovative solutions to navigate our clients' toughest challenges and help them advance their infrastructure for the long haul.
Learn More