News Item
Cuneyt Feizoulof Rejoins CDM Smith
April 4, 2016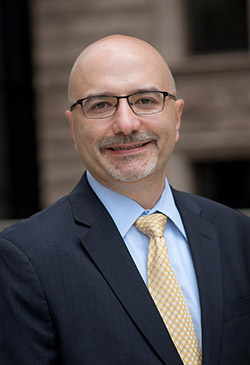 CHICAGO—CDM Smith is pleased to announce that Cuneyt Feizoulof, PE, BCEE, LEED® AP, has rejoined the firm as a vice president. Feizoulof has more than two decades of experience executing multi-million dollar programs throughout the United States. Most recently, he served as a market sector leader with a major global consulting firm, charged with growing the firm's water conveyance practice in the Americas. Previously, with CDM Smith, he distinguished himself as a leader in client service and drinking water engineering.
Randy Rogers, CDM Smith senior vice president, says, "I'm extremely pleased to have Cuneyt back with the CDM Smith family. Cuneyt has achieved successful outcomes for project owners throughout his career. His client service acumen and drive for excellence will be true assets to CDM Smith. I look forward to working with him as he leads the development and implementation of large water projects across North America."
From his home base in Chicago, Feizoulof will work with clients to develop innovative and resilient water business solutions. "CDM Smith brings a dedication to client service and a shared commitment that's inspiring," he says. "I'm excited to be part of a team of forward-thinking engineers and builders who are focused on delivering smarter infrastructure nationwide."
CDM Smith provides lasting and integrated solutions in water, environment, transportation, energy and facilities to public and private clients worldwide. As a full-service engineering and construction firm, we deliver exceptional client service, quality results and enduring value across the entire project life cycle.