News Item
Colorado's U.S. 36 Express Lanes Project Honored as America's Best
October 19, 2017
The Colorado Department of Transportation's $487 million project, for which CDM Smith served as traffic and revenue consultant, won the 2017 America's Transportation Awards Grand Prize.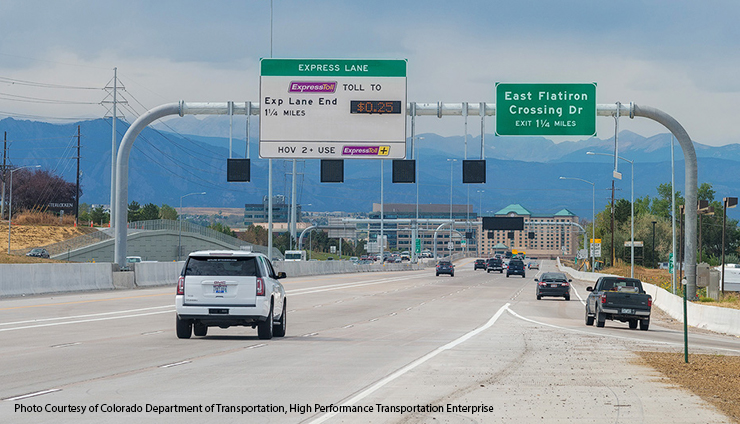 DENVER, Colorado—On September 27, 2017, the American Association of State Highway and Transportation Officials (AASHTO) announced that the Colorado Department of Transportation's (CDOT) $487 million U.S. 36 Express Lanes project earned the Grand Prize in the 2017 America's Transportation Awards competition.
The U.S. 36 Express Lanes project was a multimodal initiative to improve mobility and safety in one of Colorado's fastest-growing areas. It included building an express lane in each direction of U.S. 36 between Denver and Boulder; installing intelligent transportation systems for incident management, tolling, transit and traveler information; replacing eight bridges and widening five others; and, adding bus rapid transit lanes and a commuter bikeway.
"Congratulations to CDOT on this honor," said Paul Marcella, CDM Smith's project manager for the U.S. 36 traffic and revenue study performed in advance of the project's construction and opening. "Our traffic and revenue forecasting team is proud to have supported the ultimate delivery of this project, and we're excited to see the mobility and safety enhancements it's brought to the Denver area."
The America's Transportation Awards competition is in its 10th year and is sponsored by AASHTO, AAA and the U.S. Chamber of Commerce. In addition to CDOT's Grand Prize, the Idaho Transportation Department's $11.2 million U.S. 20 Thornton Interchange project was voted the People's Choice Award winner.
CDM Smith provides lasting and integrated solutions in water, environment, transportation, energy and facilities to public and private clients worldwide. As a full-service engineering and construction firm, we deliver exceptional client service, quality results and enduring value across the entire project life cycle.