News Item
Water Treatment Expert Chris Schulz Honored with Top AAEES Award 
April 30, 2019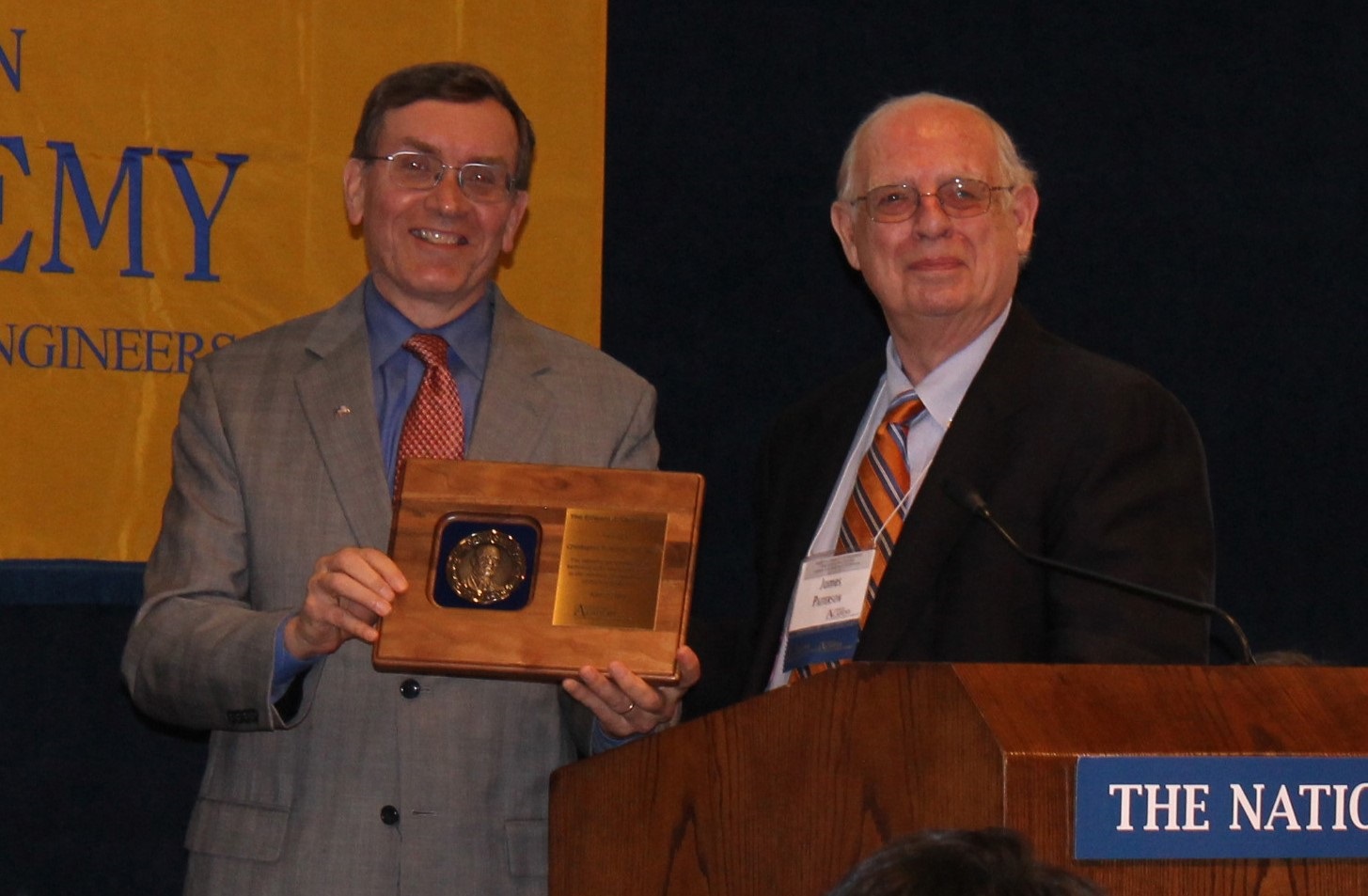 Schulz accepts his award from AAEES President-Elect Dr. James W. Patterson, PE, BCEE.
WASHINGTON, DC— CDM Smith is pleased to announce that Chris Schulz, PE, BCEE was recently named recipient of the 2019 American Academy of Envi­ron­men­tal Engineers & Scientists (AAEES) Edward J. Cleary Award. This prestigious award is given to individuals who are outstanding performers in the management of envi­ron­men­tal protection and have demon­strated exemplary profes­sional conduct, personal leadership, technical originality, and respon­sive­ness to social, economic, and political factors in envi­ron­men­tal protection. Schulz, who is based in Denver, Colorado, accepted his award at the annual AAEES Awards Luncheon held at the National Press Club in Washington, DC on April 25, 2019.
"The totality of this award is really special," said Schulz. "I love what I do and have been fortunate to spend nearly my entire career at CDM Smith bringing safe drinking water to communities in the USA and around the world."
Since joining CDM Smith over 30 years ago, Schulz has been advancing the firm's drinking water practice with steadfast dedication. He has served as technical director or process lead on dozens of water treatment plant designs involving advanced processes in UV, ozone, membranes and biological filtration. Schulz's research has led to the development of new tech­nolo­gies for ozone disin­fec­tion of drinking water pipelines, hydraulic floc­cu­la­tion, and treatment process opti­miza­tion. In his current role as water treatment process specialist, Schulz is responsible for planning and designing drinking water treatment facilities in the United States and inter­na­tion­ally.
The AAEES awards served as an opportunity for Schulz to reflect on the mentors and colleagues who have supported him throughout his career. In his acceptance remarks, Schulz cited Professor Dan Okun of the University of North Carolina, who served as his research advisor at UNC in 1982. Schulz says it was Dr. Okun who inspired him to become a water treatment engineer so he could address safe water and public health issues in communities around the world. In 1984, Schulz and Okun co-authored a book together on appropriate technology for water treatment in developing countries.
Schulz currently holds 11 U.S. patents in water treatment tech­nolo­gies, has presented more than 70 papers in profes­sional engineering conferences, and has received numerous awards including the AAEES Grand Award in Operations and Management and the University of North Carolina's Distin­guished Alumni Award.
In addition to his contri­bu­tions to the firm, Schulz has also volunteered with private companies in Guatemala, Ghana, and India to develop simple household water filter tech­nolo­gies for communities without access to safe water supplies.
CDM Smith is a privately owned engineering and construc­tion firm providing legendary client service and smart solutions in water, environment, trans­porta­tion, energy and facilities. Passionate about our work and invested in each other, we are inspired to think and driven to solve the world's envi­ron­men­tal and infra­struc­ture challenges.
Campaign
Water Partnership at CDM Smith
https://www.cdmsmith.com//en/Client-Solutions/Focus-Areas/Water
It's about much more than engineering. It's thoughtful experts, powerful insights and smart decisions. It's an alliance to help you manage resources and build a more resilient future.
Learn More