CDM Smith Supports Centro ESPIBI in the Aftermath of Hurricane Maria
News Item
CDM Smith Supports Centro ESPIBI in the Aftermath of Hurricane Maria
December 11, 2017
San Juan, Puerto Rico – CDM Smith has selected Centro ESPIBI as one of the charities the firm will support, this quarter, thanks to employees partic­i­pat­ing in the firm's wellness program. Luis Jimenez, CDM Smith's Puerto Rico Area Manager, and Firas Makarem, Vice President, presented a check for $25,000 to this nonprofit orga­ni­za­tion at CDM Smith's San Juan office on December 6, 2017. Centro ESPIBI is a school for children with special needs, located in Mayagüez on the western coast of Puerto Rico.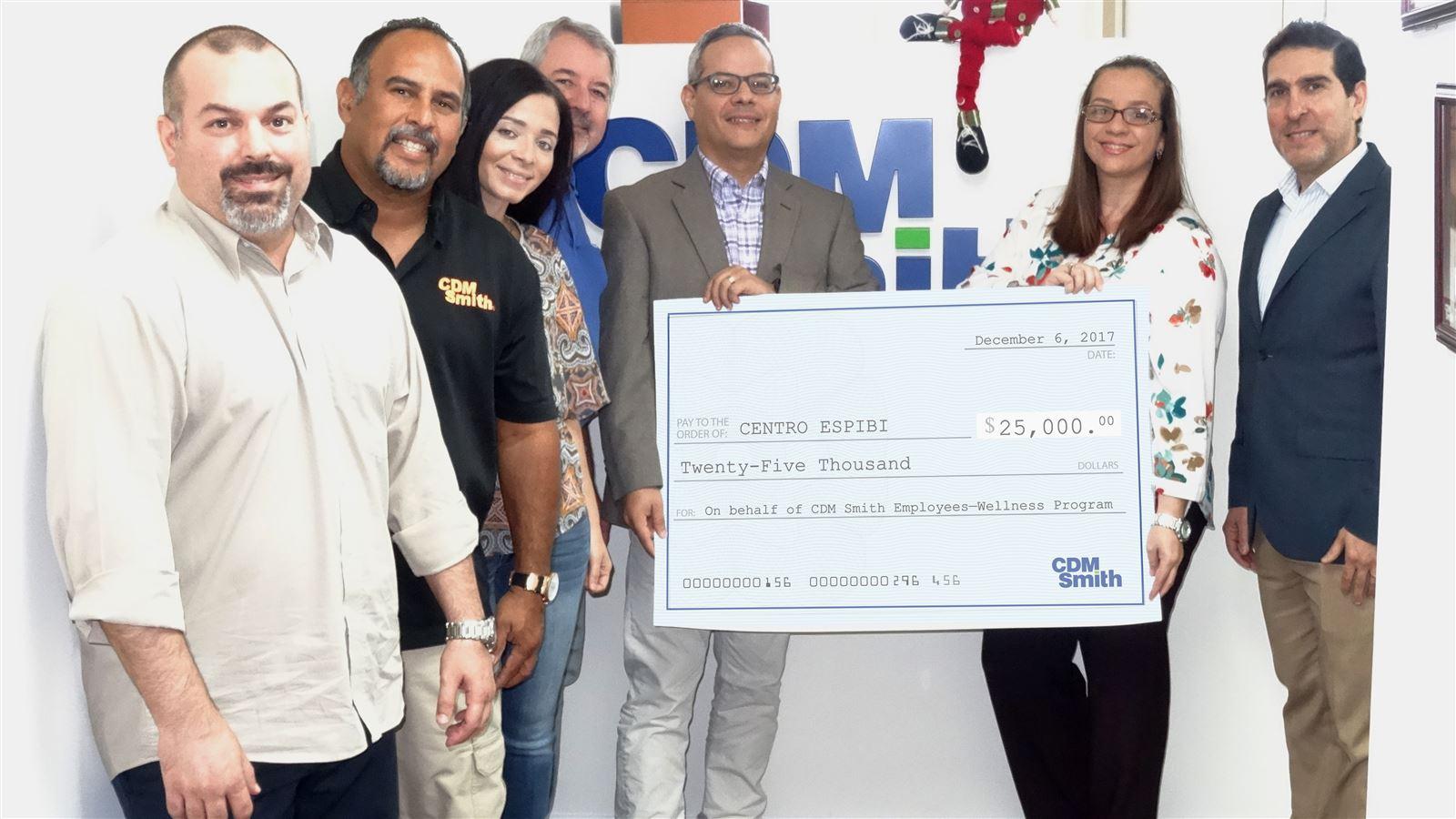 Staff from CDM Smith's San Juan office, posing with the Centro ESPIBI Director: José Arsuaga, José Reyes, Wilveliz Santana, Mike Valentino, Luis Raúl Jiménez, Liznell Padilla (Centro ESPIBI) and Firas Makarem.
Centro ESPIBI was recently caught in the path of Hurricane María, resulting in substantial damage to the school's grounds, furniture and equipment. CDM Smith's donation will directly benefit students and allow the school to remain open—helping to provide speech and art therapy, sports equipment, and educational videos and games. CDM Smith's partnership with Centro ESPIBI has lasted over ten years, resulting in many funds raised through various initiatives, including annual golf tournaments that also serve as opportunities for children to learn the sport.
The firm's wellness program tracks and rewards employees, spouses and partners for healthy behaviors and accomplishments, with the overall goal of a healthier, more productive, happy and focused workforce. Employees participate in onsite biometric screenings, team challenges, races and exercise classes, and track behaviors that contribute to their overall wellbeing. The firm sets quarterly points goals for participants to strive for, resulting in charitable donations of up to $50,000 per quarter. In November 2017, Meals on Wheels America and Wounded Warriors Project also received donations of $12,500, each, in benefit of the firm's wellness program. Employees appreciate the opportunity to play an active role in the firm's commitment to social responsibility and health and humanitarian causes.
CDM Smith
provides lasting and integrated solutions in water, environment, transportation, energy and facilities to public and private clients worldwide. As a full-service engineering and construction firm, we deliver exceptional client service, quality results and enduring value across the entire project life cycle.