News Item
CDM Smith and MassDOT Win 2018 ACEC-MA Gold Award
April 9, 2018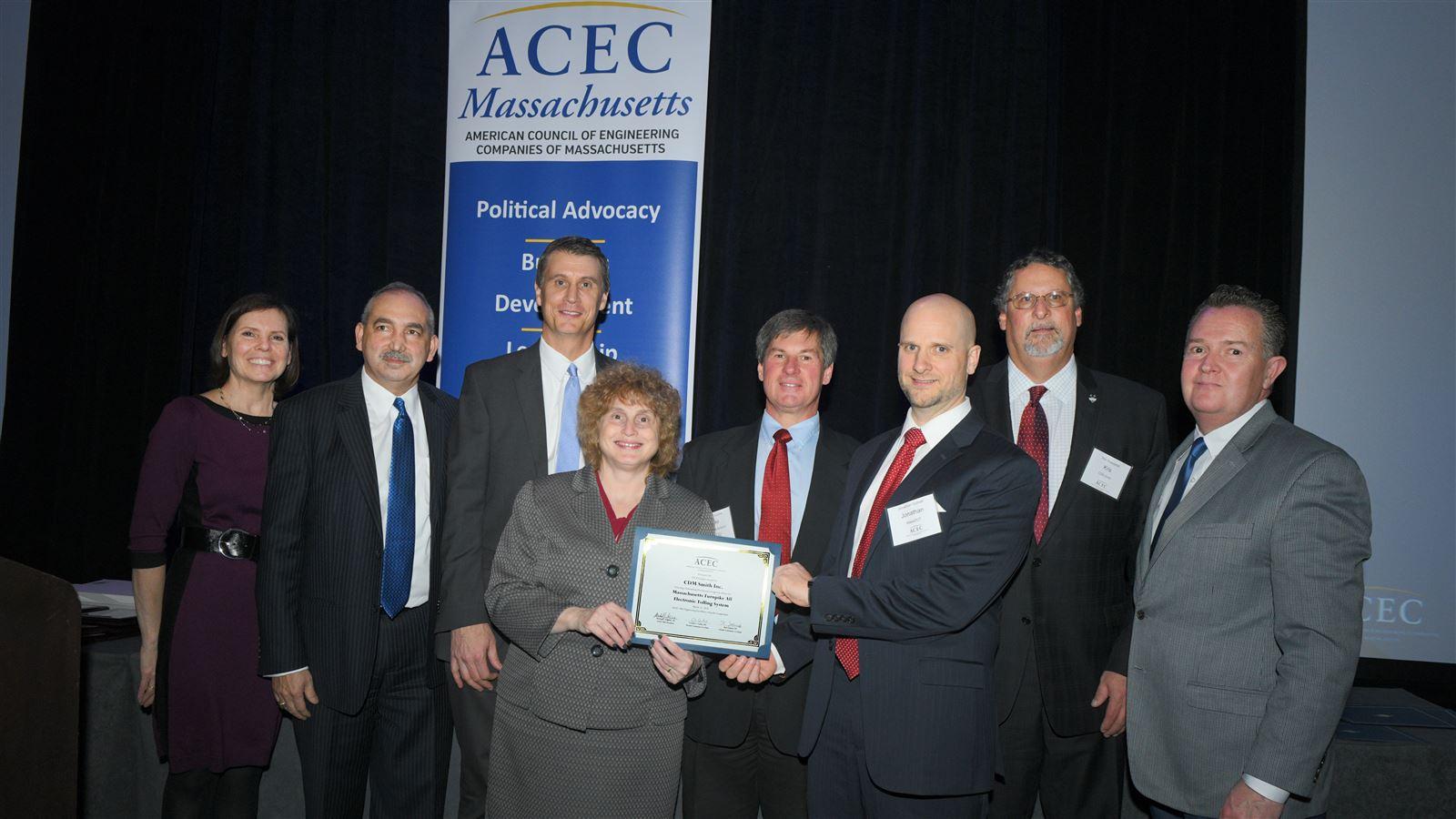 Accepting the award (left to right): Beth J. Larkin, Sam H. Sleiman, Kevin Johnson, Stephanie Pollack, Michael J. Scipione, Jonathan Gulliver, Kris Wuestefeld, Stephen Collins.
BOSTON, Massachusetts—CDM Smith is proud to announce that the American Council of Engineering Companies of Massachusetts (ACEC-MA) has awarded CDM Smith and the Massachusetts Department of Transportation (MassDOT) the 2018 Engineering Excellence Gold Award for the Mass­a­chu­setts Turnpike All-Electronic Tolling (AET) System project. The award was presented on March 14, 2018. MassDOT used a "best value" design-build procurement to select its team of CDM Smith, Raytheon, SPS New England and Liddell Brothers. The AET system uses transponder technology or license plate image capture to complete transactions, helping vehicles maintain highway speeds while eliminating accidents causes by toll plaza backups. It spans 138 miles from the New York border to Boston Logan International Airport, providing improved air quality, traffic flow and safety conditions
"The open communication and collaboration with MassDOT on complex problems created a strong partnership that helped meet all of the project goals," expressed CDM Smith client service leader and design manager Kevin Johnson, PE, PTOE, NETTCP.
In July 2017, the International Bridge, Tunnel and Turnpike Association (IBTTA) named the project the winner of its Private Sector Innovation Award, given annually as part of IBTTA's International Toll Excellence Awards competition. The project was also one of 12 finalists nominated for the 2017 America's Transportation Awards competition, an annual competition sponsored by the American Association of State Highway and Transportation Officials, AAA and the U.S. Chamber of Commerce.
CDM Smith provides lasting and integrated solutions in water, environment, transportation, energy and facilities to public and private clients worldwide. As a full-service engineering and construction firm, we deliver exceptional client service, quality results and enduring value across the entire project life cycle.
Trans­porta­tion at CDM Smith
Our trans­porta­tion experts are dedicated to improving mobility now and for the future, providing innovative solutions to navigate our clients' toughest challenges and helping them advance their infra­struc­ture for the long haul.
Learn More