News Item
CDM Smith Design-Build Project Named WateReuse 2016 Industrial Project of the Year
September 20, 2016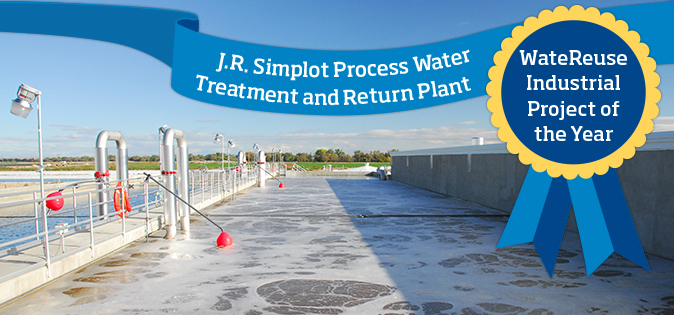 BOSTON—CDM Smith is proud to announce the J.R. Simplot Company's (Simplot) process water treatment and return plant (PWTRP) in Caldwell, Idaho, which CDM Smith designed and built, was recognized by the WateReuse Association as its 2016 Industrial Project of the Year. The award was given at the 31st Annual WateReuse Symposium, held in Tampa, Florida, between September 11 and 14.

Simplot, one of the world's largest producers of potato products, set an ambitious goal for the PWTRP, which was part of a major expansion to consolidate the company's french fry production for major customers into a single facility: create a zero-liquid discharge facility and produce effluent suitable for reuse in production. The PWTRP accom­plished Simplot's challenging objectives through an innovative treatment system including primary clar­i­fi­ca­tion, anaerobic fermen­ta­tion, enhanced biological nutrient removal for nitrogen and phosphorus, and activated sludge with membrane bioreactors followed by reverse osmosis (RO) and chlorine disin­fec­tion. All RO brine is evaporated on-site in an innovative enhanced evaporation system.

"The J.R. Simplot Company is honored to receive this award," plant director Erik Brandenburg said. "The Caldwell plant provides a world-class work environment and a number of natural resource benefits. It truly reflects our core values of respect for resources, spirit of innovation and passion for people."

The state-of-the-art PWTRP was completed in January 2014 and treats an average of 2.3 million gallons per day (mgd) of high-strength potato processing wastewater, with a maximum capacity of 3.2 mgd. Approx­i­mately 1.7 mgd of water, equivalent to drinking water standards, is reclaimed and returned for reuse safely in the production process. An innovative spray evaporation technology disposes of up to 320,000 gallons per day of brine reject from the RO system. All remaining effluent is used for irrigation of forage crops. Common-wall construc­tion minimized capital costs and consol­i­dated piping needs, minimizing operating labor and lowering the plant's overall footprint.

Al Goodman, CDM Smith's client service leader for Simplot, said, "By working collab­o­ra­tively throughout the design-build process, we were able to deliver the project on budget and against an aggressive schedule since the PWTRP had to be operational before the new production facility went online. Several treatment innovations are helping Simplot optimize their water management, meet recycling water quality goals equivalent to drinking water and advance Simplot's sustain­abil­ity mission. This creates what is truly a zero liquid discharge facility for Simplot and a flagship project that raises the bar for water reuse in food industries."

CDM Smith provides lasting and integrated solutions in water, environment, trans­porta­tion, energy and facilities to public and private clients worldwide. As a full-service engineering and construc­tion firm, we deliver exceptional client service, quality results and enduring value across the entire project life cycle.