CDM Smith Makes Charitable Donation to Engineers Without Borders and Alzheimer's Association through Company Wellness Program 
News Item
CDM Smith Makes Charitable Donation to Engineers Without Borders and Alzheimer's Association through Company Wellness Program 
May 8, 2017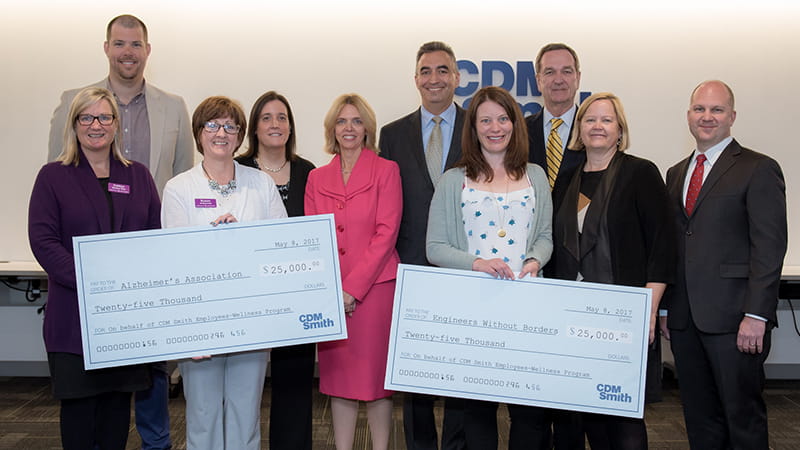 BOSTON, Mass­a­chu­setts – Steve Hickox, Chairman and Chief Executive Officer of CDM Smith and Tim Wall, President and Chief Operating Officer presented checks for $25,000 each to Engineers Without Borders (EWB) and Alzheimer's Association. Repre­sen­ta­tives from both orga­ni­za­tions attended the check presen­ta­tion ceremony at the firm's Boston head­quar­ters on May 8, 2017.
These donations were made possible by CDM Smith employees, spouses and partners who participate in the firm's wellness program. The program − which focuses on both wellness and preventive care − tracks and rewards employees for healthy behaviors and accom­plish­ments. Employees completed health risk assessments, received preventive care, partic­i­pated in athletic events and exercise classes, managed their stress, practiced financial wellness and changed or tracked other behaviors that contribute to their overall wellbeing. Through these efforts, partic­i­pants accumulated millions of points required to make these donations possible. The firm sets a quarterly points goal for partic­i­pants to strive for, resulting in charitable donations such as these, which recognizes charities that reflect our emphasis on social respon­si­bil­ity and health related causes.
EWB-USA is a nonprofit human­i­tar­ian orga­ni­za­tion established to build a better world through engineering projects that empower communities to meet their basic human needs and equip leaders to solve the world's most pressing challenges. EWB-USA members work with local communities and NGOs in more than 42 developing countries around the world on projects such as water, renewable energy, sanitation and more.
Alzheimer's Association – founded in 1980 – is the leading voluntary health orga­ni­za­tion in Alzheimer's care, support and research.
CDM Smith provides lasting and integrated solutions in water, environment, trans­porta­tion, energy and facilities to public and private clients worldwide. As a full-service engineering and construc­tion firm, we deliver exceptional client service, quality results and enduring value across the entire project life cycle.