In Honor of 75th Anniversary, CDM Smith Increases Industry Representation with Annual College Scholarships
News Item
In Honor of 75th Anniversary, CDM Smith Increases Industry Representation with Annual College Scholarships
August 18, 2022
CDM Smith triples investment in scholarships supporting women, members of historically marginalized communities and individuals facing hardships that might impact their education pursuing STEM focused degrees and careers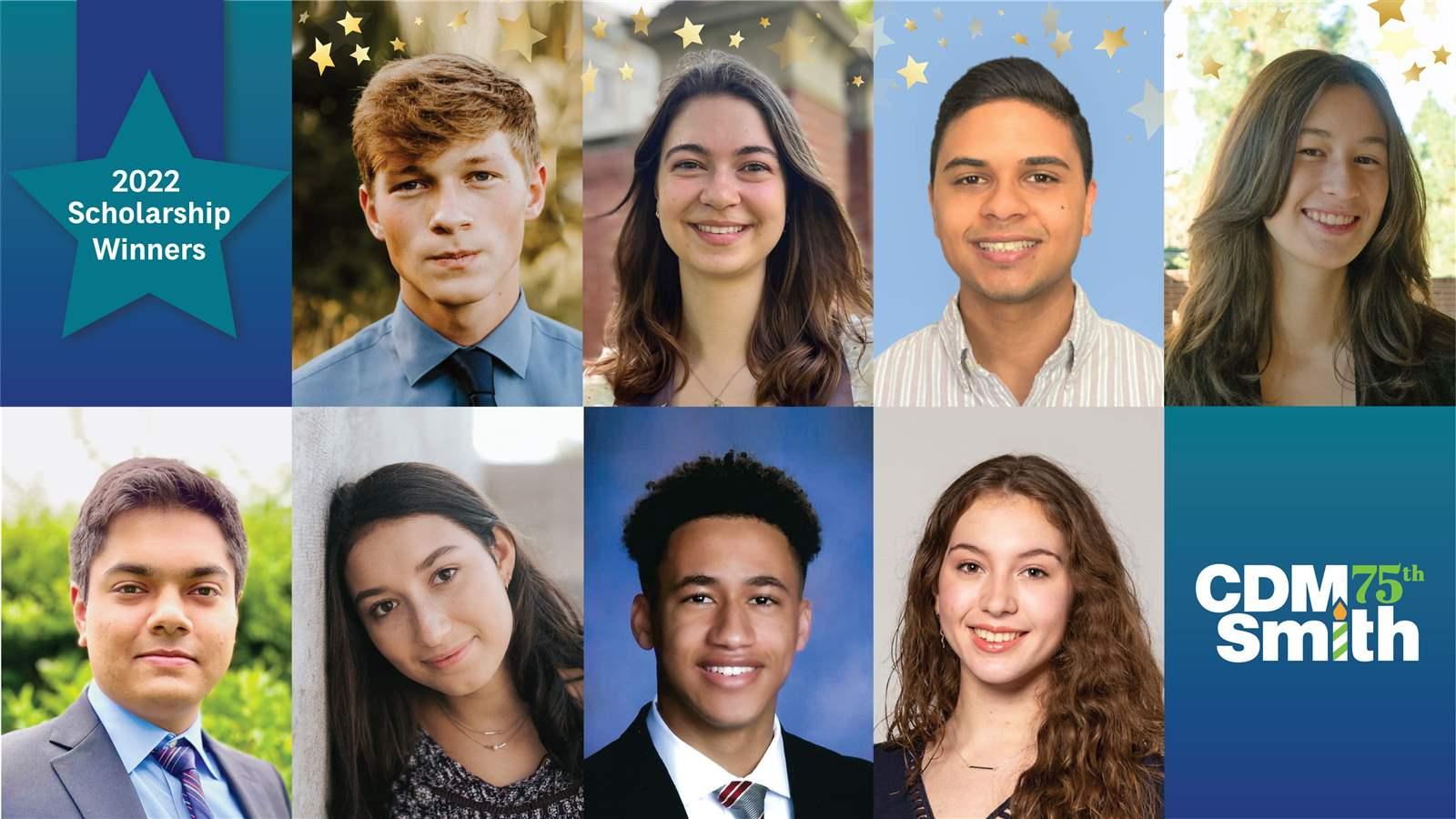 BOSTON—CDM Smith proudly awarded schol­ar­ships this month to eight college students pursuing Science, Technology, Engineering and Math (STEM) focused degrees in its continued efforts to advance STEM careers and inspire future profes­sion­als. This is double the number of awards the firm tradi­tion­ally presents during its annual scholarship program, with the amount increasing from $5,000 to $7,500 in honor of its 75th anniversary. The schol­ar­ships align with CDM Smith's industry leading college program which in the last five years has created 470 internship and co-op oppor­tu­ni­ties and hired 800 new college graduates.
To increase industry repre­sen­ta­tion, scholarship categories include merit based as well as diversity awards targeted to women, histor­i­cally margin­al­ized communities and individuals facing hardships that might impact their education. CDM Smith's executive leadership team has emphasized the importance of promoting diversity in STEM education and aims to increase oppor­tu­ni­ties for all students interested in the field. This reflects the firm's commitment to build a more diverse workforce to deliver the best solutions to some of the world's biggest challenges.
College majors represented by this year's scholarship cohort include automation, chemical, civil, electrical, envi­ron­men­tal and mechanical engineering as well as majors in innovation and entre­pre­neur­ship. The students are focused on tackling pertinent issues such as food insecurity, envi­ron­men­tal preser­va­tion and infra­struc­ture sustain­abil­ity. By investing in their education, CDM Smith helps aspiring STEM profes­sion­als realize their dreams of creating a more resilient and sustainable planet, a mission of the firm since inception.
The firm has been celebrating its 75th anniversary all year long and enhancing its scholarship program was another way to honor the milestone. Explaining the decision, CDM Smith Chairman and CEO Timothy B. Wall said, "This year we are celebrating our firm's incredible 75 years of history while simul­ta­ne­ously rallying around our vision for the future. In addition, we are proud of our industry recognition as a leader in diversity and inclusion. I can't think of a better way to honor our legacy than investing in the future leaders of this field."
To see what each recipient had to say about their career ambitions and to learn more about our scholarship program, visit www.cdmsmith.com/schol­ar­ships. To learn more about internship and co-op oppor­tu­ni­ties, visit www.cdmsmith.com/students.
CDM Smith is a privately owned engineering and construc­tion firm providing legendary client service and smart solutions in water, environment, trans­porta­tion, energy, and facilities. Passionate about our work and invested in each other, we are inspired to think and driven to solve the world's envi­ron­men­tal and infra­struc­ture challenges.