CDM Smith Harnesses Mixed Reality
News Item
CDM Smith Harnesses Mixed Reality
March 30, 2016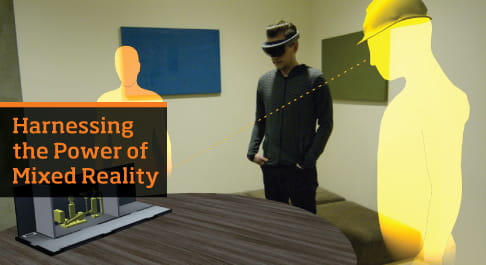 BOSTON—Tech­no­log­i­cal advances are im­prov­ing our ability to design, con­struct and operate in­fra­struc­ture with enhanced pre­ci­sion, greater ef­fi­ciency and improved col­lab­o­ra­tion. What once seemed only possible in sci-fi movies can now be applied to greatly enhance large in­fra­struc­ture projects: helping com­mu­ni­ties and busi­nesses overcome their water, en­vi­ron­ment, trans­porta­tion, energy and facility chal­lenges. At CDM Smith, we are har­ness­ing the power of Mi­crosoft's HoloLens, a mixed reality tech­nol­ogy, to help our clients design, build and operate their in­fra­struc­ture assets faster and more ef­fi­ciently. We are excited to announce that over the past 7 months, we have been in­vest­ing in mixed reality tech­nol­ogy to de­ter­mine the most relevant ap­pli­ca­tions to large in­fra­struc­ture projects.
Dave Neitz, CDM Smith Chief In­for­ma­tion Officer, states, "Next gen­er­a­tion tech­nolo­gies like this will rev­o­lu­tion­ize our industry by allowing all stake­hold­ers to vi­su­al­ize, com­mu­ni­cate and col­lab­o­rate together in the design and con­struc­tion process in a more ex­pe­ri­en­tial and trans­par­ent process." Imagine standing on a future site and vi­su­al­iz­ing the future facility to scale. Then, imagine walking into the facility, in­spect­ing project elements and con­ceiv­ing im­prove­ments to make the project safer, easier to operate and more sus­tain­able. This not an un­re­al­is­tic future scenario; this is possible today with Mi­crosoft HoloLens.
CDM Smith provides lasting and integrated solutions in water, environment, transportation, energy and facilities to public and private clients worldwide. As a full-service engineering and construction firm, we deliver exceptional client service, quality results and enduring value across the entire project life cycle.