CDM Smith Donates to Darkness to Light, Sacramento Splash and Powerhouse Science Center Through Wellness Program
News Item
CDM Smith Donates to Darkness to Light, Sacramento Splash and Powerhouse Science Center Through Wellness Program
March 21, 2019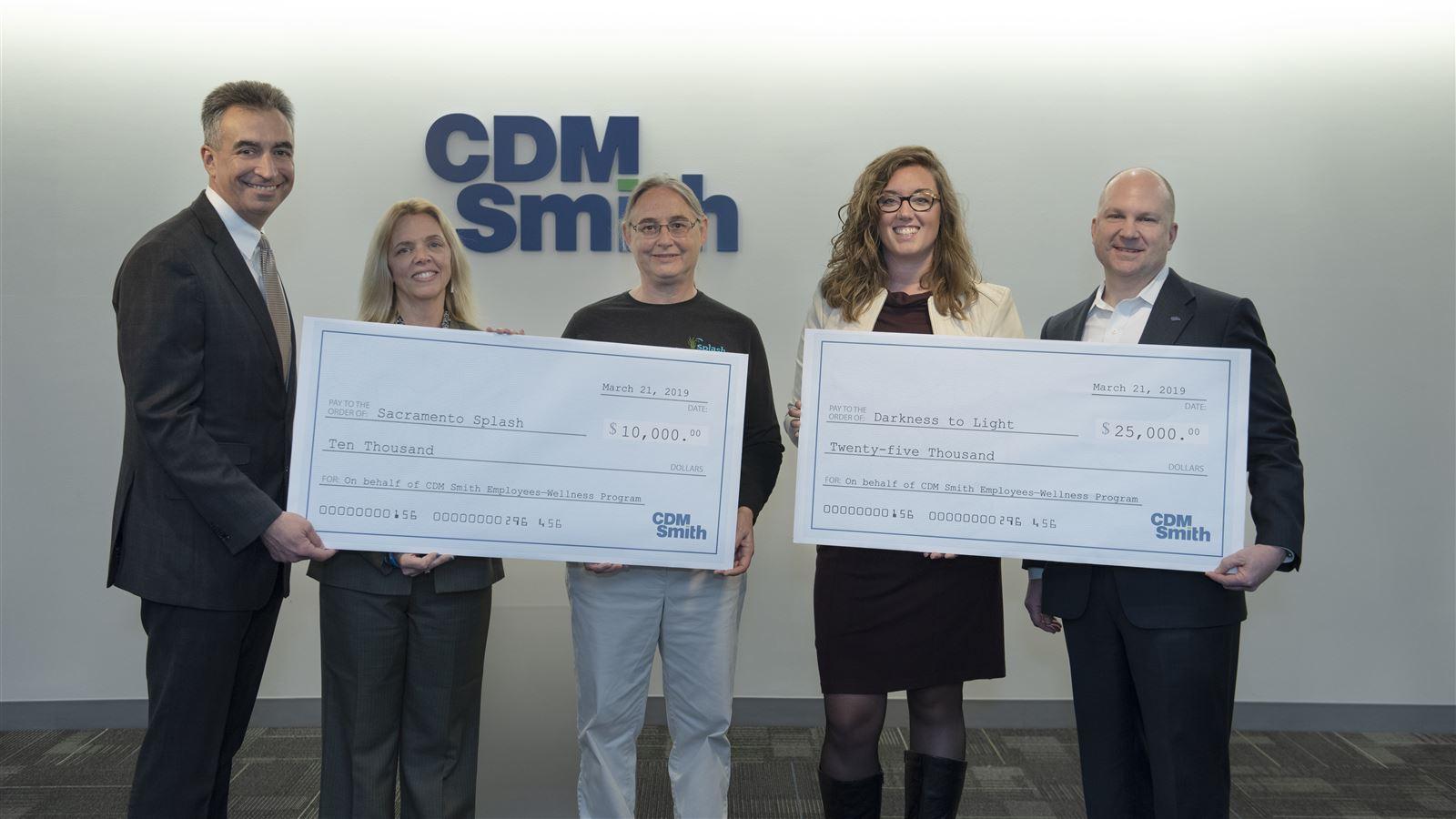 CDM Smith presented checks of $10,000 to Sacramento Splash, $25,000 to Darkness to Light and $15,000 to Powerhouse Science Center. Pictured (l-r): Carlos Echalar and Susan Glover (CDM Smith); Eva Butler (Sacramento Splash); Katelyn Brewer (Darkness to Light,); Tim Wall (CDM Smith).
BOSTON – Partic­i­pants in CDM Smith's employee wellness program proudly made three more financial donations, achieved through the firm's award-winning wellness program. CDM Smith contributed $25,000 to Darkness to Light, $10,000 to Sacramento Splash, and $15,000 to Powerhouse Science Center. CDM Smith Chairman and Chief Executive Officer, Tim Wall, presented the checks at the firm's Boston head­quar­ters on March 21, 2019. To date, more than $400,000 has been donated to local and national charities through the firm's wellness program.
Darkness to Light, a non-profit located in Charleston, S.C., was founded in 1997. With a mission of keeping children safe, the orga­ni­za­tion is committed to empowering adults to prevent child sexual abuse by training facil­i­ta­tors all over the world. Katelyn Brewer, President and Chief Executive Officer of Darkness to Light, accepted the check for $25,000.
The second orga­ni­za­tion to receive a donation was Sacramento Splash, in the amount of $10,000. Splash is a non-profit that began in 1999, dedicated to helping local children understand and value their natural world and the wonder of science. Eva Butler, Founder and Program Director, accepted the check at the celebration.
Unable to accept their $15,000 check in person, Powerhouse Science Center watched the broadcast from their California offices via Facebook Live. Founded in 1951 as the California Junior Museum, the center inspires young scientists through their interactive programs and exhibits. Over the past 65 years, they have fostered a love of science and careers in STEM (science, technology, engineering, math) for kids of all ages.
CDM Smith's wellness program, a winner of both a Best and the Brightest in Wellness award and a WorkWell Mass­a­chu­setts award, rewards employees, spouses and partners for healthy behaviors and accom­plish­ments, with the overall goal of a healthier, more productive, happy and focused workforce. Employees participate in onsite biometric screenings, team challenges, races and exercise classes, and track behaviors that contribute to their overall wellbeing. The firm sets quarterly goals for partic­i­pants to strive for, resulting in charitable donations of up to $50,000 per quarter.
CDM Smith is a privately owned engineering and construc­tion firm providing legendary client service and smart solutions in water, environment, trans­porta­tion, energy and facilities. Passionate about our work and invested in each other, we are inspired to think and driven to solve the world's envi­ron­men­tal and infra­struc­ture challenges.
Visit us at cdmsmith.​com
###