CDM Smith Celebrates Rosie's Place and AdoptAClassroom.org Through Wellness Program
News Item
CDM Smith Celebrates Rosie's Place and AdoptAClassroom.org Through Wellness Program
November 29, 2018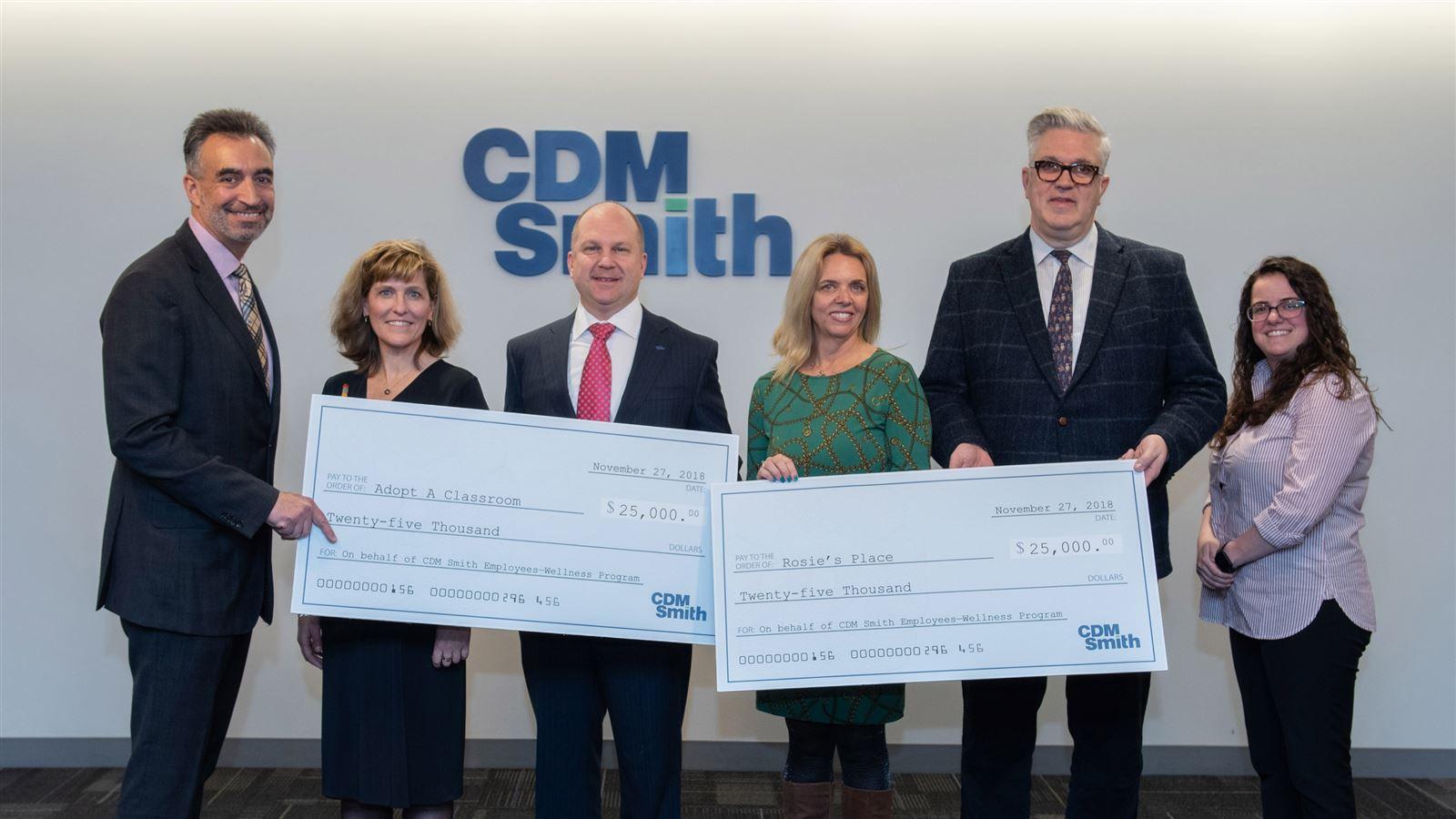 CDM Smith presented $25,000 checks to both Adop­tA­Class­room.org and Rosie's Place. Pictured (l-r): Carlos Echalar (CDM Smith); Ann Pifer (Adop­tA­Class­room.org); Tim Wall and Susan Glover (CDM Smith); Michael Oliver (Rosie's Place); Amanda Teixeira (CDM Smith).
BOSTON – Participants in CDM Smith's employee wellness program made two more donations possible as part of their wellness program. CDM Smith selected Rosie's Place as the recipient of $25,000 and employees in the wellness program voted to give $25,000 to AdoptAClassroom.org.
Rosie's Place, located in Boston, was founded in 1974 as the first women's shelter in the United States. Their mission is to provide a safe and nurturing environment that helps poor and homeless women maintain their dignity, seek opportunity and find security in their lives. CDM Smith Chairman and Chief Executive Officer Timothy Wall presented Michael Oliver, Director of Fundraising, with a check for $25,000 at CDM Smith's Boston headquarters on November 27th, 2018.
The second organization to receive a $25,000 donation was AdoptAClassroom.org, voted on by the firm's wellness participants. Currently, 60% of all classroom supplies are being purchased by teachers out of their own pockets. AdoptAClassroom.org's mission is: "Advancing equity in education by powering today's classrooms to prepare tomorrow's graduates." Just this year, they have served over 9,000 teachers. Ann Pifer, Executive Director from AdoptAClassroom.org accepted the check.
The firm's award-winning wellness program tracks and rewards employees, spouses and partners for healthy behaviors and accomplishments, with the overall goal of a healthier, more productive, happy and focused workforce. Employees participate in onsite biometric screenings, team challenges, races and exercise classes, and track behaviors that contribute to their overall wellbeing. The firm sets quarterly points goals for participants to strive for, resulting in charitable donations of up to $50,000 per quarter. The program was recently honored with a Silver WorkWell award from the Worksite Wellness Council of MA.
CDM Smith provides lasting and integrated solutions in water, environment, transportation, energy and facilities to public and private clients worldwide. As a full-service engineering and construction firm, we deliver exceptional client service, quality results and enduring value across the entire project life cycle.
Visit us at cdmsmith.com
###