CDM Smith Donates $25,000 to Meals on Wheels America and Wounded Warrior Project
News Item
CDM Smith Donates $25,000 to Meals on Wheels America and Wounded Warrior Project
November 14, 2017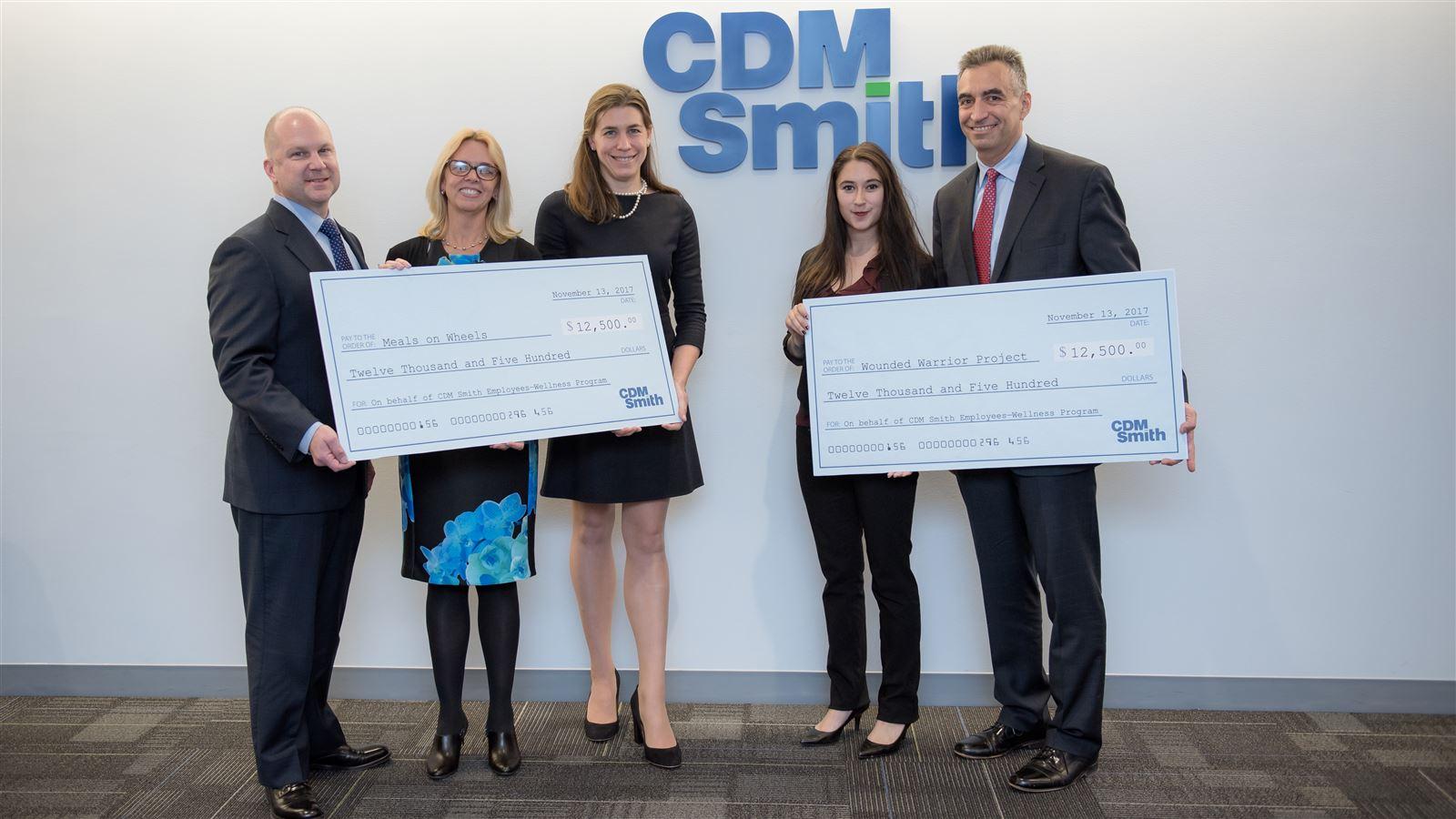 CEO-Elect Tim Wall, CDM Smith; Susan Glover, CDM Smith; Lindsay Pugh, Meals on Wheels America; Ariana Evans, Wounded Warrior Project; and CHRO Carlos Echalar, CDM Smith
BOSTON—CDM Smith's employees partic­i­pat­ing in the firm's wellness program have chosen to support two charities this quarter, Meals on Wheels America and Wounded Warrior Project. Tim Wall, CDM Smith Chief Executive Officer-Elect, presented checks for $12,500 to both non-profit orga­ni­za­tions, whose missions directly reflect employees' values. Repre­sen­ta­tives from both orga­ni­za­tions attended a check presen­ta­tion ceremony at the firm's Boston head­quar­ters on November 13, 2017.
The firm's wellness program tracks and rewards employees, spouses and partners for healthy behaviors and accom­plish­ments, with the overall goal of a healthier, more productive, happy and focused workforce. Employees participate in onsite biometric screenings, team challenges, races and exercise classes, and track behaviors that contribute to their overall well-being. The firm sets a quarterly points goal for partic­i­pants to strive for and, this quarter, they far exceeded the goal, resulting in charitable donations to these two orga­ni­za­tions. Employees appreciate the opportunity to play an active role in the firm's commitment to social respon­si­bil­ity and health and human­i­tar­ian causes, and are encouraged to recommend and vote on charities they would most like to support.
Meals on Wheels America is the oldest and largest national orga­ni­za­tion supporting the more than 5,000 community-based senior nutrition programs across the country that are dedicated to addressing senior hunger and isolation.
Wounded Warrior Project® (WWP) serves veterans, service members and their families by providing free programs and services to address the needs of wounded warriors and fill gaps in government care.
CDM Smith provides lasting and integrated solutions in water, environment, trans­porta­tion, energy and facilities to public and private clients worldwide. As a full-service engineering and construc­tion firm, we deliver exceptional client service, quality results and enduring value across the entire project life cycle.