CDM Smith Donates to the Bottom Line and Crohn's & Colitis Foundation Through Wellness Program
News Item
CDM Smith Donates to the Bottom Line and Crohn's & Colitis Foundation Through Wellness Program
August 29, 2018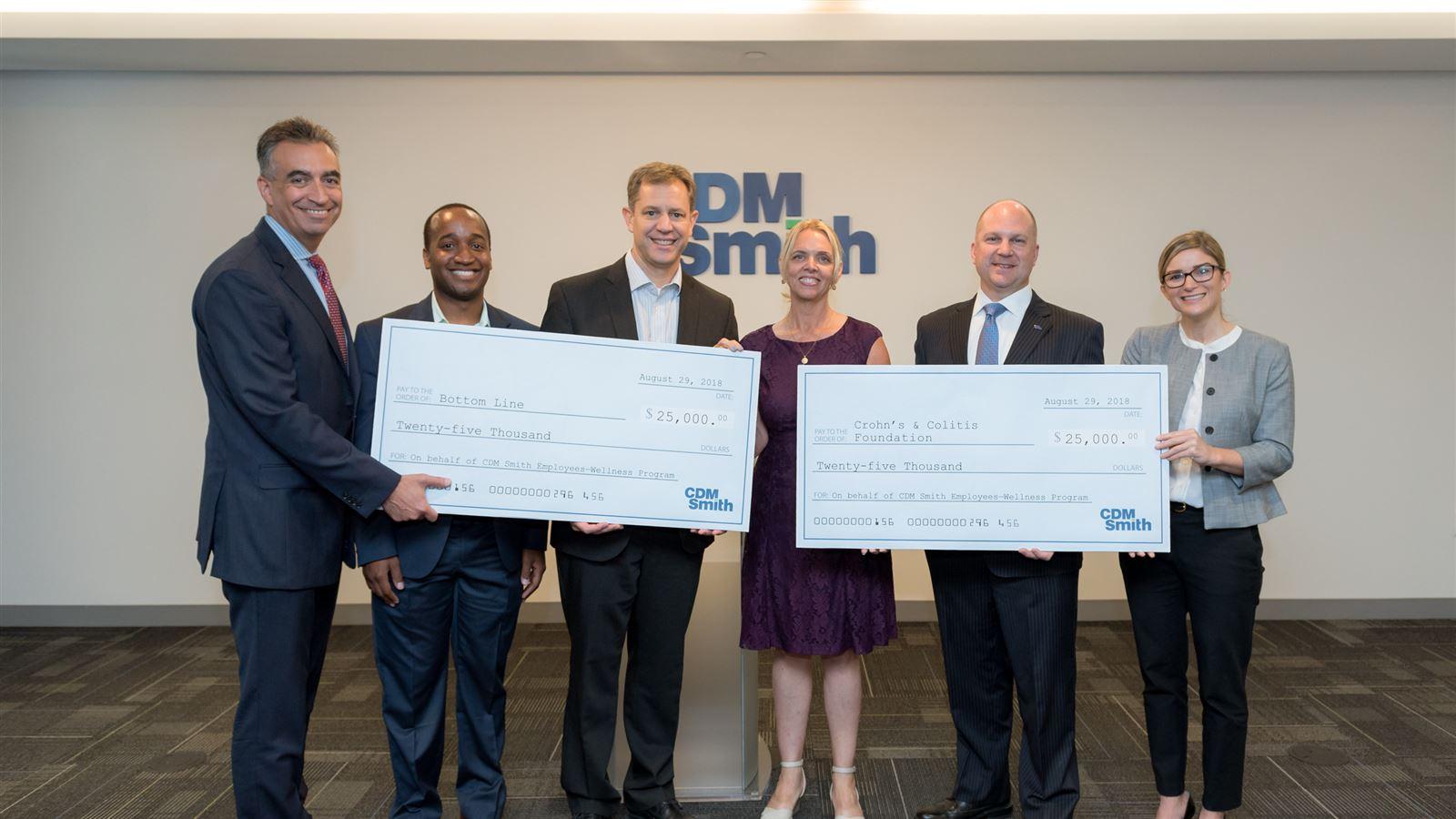 CDM Smith presented a check for $25,000 to each the Bottom Line and Crohn's & Colitis Foundation on August 29, 2018. Pictured (l-r): Carlos Echalar (CDM Smith); Rich Pierre and Greg Johnson (Bottom Line); Susan Glover and Tim Wall (CDM Smith); Jenna Wilson (Crohn's & Colitis Foundation).
BOSTON – CDM Smith supported two charities this quarter with funds raised by partic­i­pants in the firm's employee wellness program. Repre­sen­ta­tives from the Bottom Line and Crohn's & Colitis Foundation each received $25,000 from CDM Smith Chief Executive Officer Tim Wall and Chief Human Resources Officer Carlos Echalar on August 29, 2018, at CDM Smith's world head­quar­ters.
Bottom Line helps low-income and first-generation-to-college students get to and through college. The program builds strong connections with students, providing them with individual support, and ensuring they have the guidance they need to persist and earn a college degree. Students receive person­al­ized one-on-one guidance and mentoring, and they are supported from senior year of high school through college for up to 6 years.
The Crohn's & Colitis Foundation is a non-profit, volunteer-driven orga­ni­za­tion dedicated to finding the cures for Crohn's Disease and ulcerative colitis, and to improving the quality of life of children and adults affected by these diseases. It was founded in 1967 by Irwin M. and Suzanne Rosenthal, William D. and Shelby Modell, and Henry D. Janowitz, M.D.
CDM Smith's unique wellness program rewards employees, as well as their spouses and partners, for healthy behaviors across all pillars of wellness, with the overall goal of a healthier, more productive, happy and focused workforce. Employees participate in onsite biometric screenings, team challenges, races and exercise classes, and track behaviors that contribute to their overall wellbeing. The firm sets quarterly points goals for partic­i­pants to strive for, resulting in charitable donations of up to $50,000 per quarter.
CDM Smith provides lasting and integrated solutions in water, environment, trans­porta­tion, energy and facilities to public and private clients worldwide. As a full-service engineering and construc­tion firm, we deliver exceptional client service, quality results and enduring value across the entire project life cycle.