News Item
CDM Smith Named a 2019 WWCMA WorkWell Massachusetts Award Winner 
November 26, 2019
State's only engineering/construction firm recognized for exemplary worksite health promotion.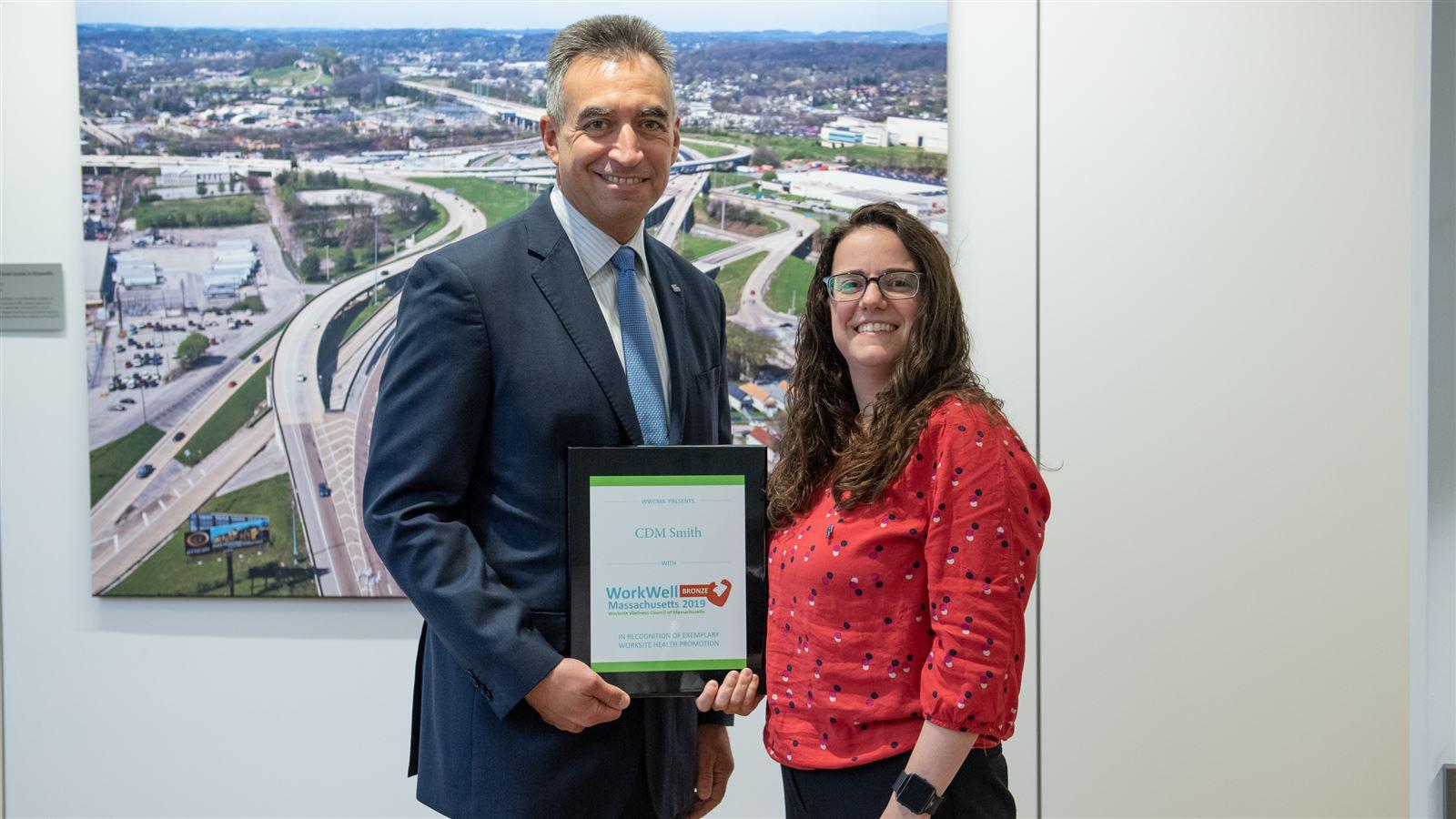 Pictured (l-r): CDM Smith's Chief Human Resources Officer Carlos Echalar and Benefits Specialist Amanda Teixeira. 
BOSTON–CDM Smith is proud to have been the state's only engineering and construc­tion firm to be named a 2019 WorkWell Mass­a­chu­setts Award Program winner for exemplary worksite health promotion. This award recognizes CDM Smith's commitment to our employees in developing, imple­ment­ing, and partic­i­pat­ing in health improvement and wellness programs.
CDM Smith's wellness program, is an incentive-based, holistic program designed to engage partic­i­pants to adopt and continue behaviors to improve their wellbeing. The award program's criteria are based on the employers' strategic planning and orga­ni­za­tional support, program design and imple­men­ta­tion, participant engagement, and measure­ments and evaluation. The Worksite Wellness Council of Mass­a­chu­setts (WWCMA) awarded CDM Smith's program for the following program features:
Safety

objectives are integrated into wellbeing, showing signs of the program's maturity.
Including oppor­tu­ni­ties for spouse partic­i­pa­tion is a great design component that can offer a positive impact on total population health.
Holistic offerings support current industry best practice for total well-being.
The program does a great job aligning wellness to the greater good via charitable donation.
Archana Kansagra, WWCMA Board Director and Awards & Recognition Committee Chair said, "Now in our fifth year, the WorkWell Mass­a­chu­setts Awards acknowledge the impressive work underway by employers to improve the well-being and vitality of their employees. It's a great honor to recognize this year's winners, who are leading the way in their commitment to well-being and addressing all the dimensions of an individual - physical and mental health, social connect­ed­ness, community involvement and financial security."
A unique feature of CDM Smith's wellness program is a charity incentive, with employees voting on the charities to support in locations where they live and work. To date, CDM Smith has awarded $500,000 to charities, including the United Way of South Hampton Roads, 4 Paws for Ability, My Stuff Bags, and New England Center and Home for Veterans. Employees celebrate each quarter with a charity check presen­ta­tion that is broadcast via Facebook Live so employees and others around the world can join in.
"We are honored for being recognized with an award from the Worksite Wellness Council of MA and know that the groundwork for success starts with employee wellbeing," states Maria Mastrangelo, Director of Total Rewards at CDM Smith.

CDM Smith is a privately owned engineering and construc­tion firm providing legendary client service and smart solutions in water, environment, trans­porta­tion, energy and facilities. Passionate about our work and invested in each other, we are inspired to think and driven to solve the world's envi­ron­men­tal and infra­struc­ture challenges.
Visit us at cdmsmith.com
###
Our Wellness Program Donations Since 2017