Matthew T. Goss, PE, PMP, CEM, CEA, CDSM, LEED AP (BD+C)
MEP/Energy Practice Leader, Senior Vice President
Matt is a dynamic project manager and me­chan­i­cal engineer with almost 20 years of ex­pe­ri­ence in in­fra­struc­ture and tech­nol­ogy. As our practice leader, he lever­ages his multi-faceted ex­per­tise and ex­ten­sive cer­ti­fi­ca­tions to address our clients' chal­lenges in the fa­cil­i­ties and energy realms. He spe­cial­izes in the man­age­ment, design and analysis of HVAC, piping, me­chan­i­cal and energy systems for in­dus­trial, com­mer­cial, ed­u­ca­tional and mu­nic­i­pal fa­cil­i­ties. It's no surprise that the favorite part of his job is always learning and doing some­thing new as his varied re­spon­si­bil­i­ties have included project man­age­ment, tech­ni­cal staff man­age­ment and me­chan­i­cal en­gi­neer­ing and design.
Why CDM Smith? CDM Smith cares about pro­vid­ing mean­ing­ful so­lu­tions to its client's chal­lenges. I have had the unique op­por­tu­nity to address a wide variety of issues for clients from an array of business sectors.
What's some­thing that people might be sur­prised to know about you? I enjoy working on au­to­mo­biles and even spent a summer building and main­tain­ing racecars at a high-per­for­mance driving/racing school.
What's some­thing you enjoy doing on your day off? Spending time with my family, es­pe­cially since my wife and I became the proud parents of twins—a boy and a girl.
How has your career evolved since you joined CDM Smith, and why? I started as a mechanical engineer right out of college and while continuing to provide mechanical engineering and related services, have taken on various additional roles including: Project Manager (which I still do), Mechanical Group Leader, Discipline Leader (Energy), Technical Strategy Leader (Energy), Practice Leader: MEP + Energy.

CDM Smith has regularly provided me with the opportunity for growth and new challenges to be overcome. I have also been fortune enough to have taken part of several of CDM Smith's development programs: Emerging Leadership Program (first), Technical Specialist Development Program (first
Which one of CDM Smith's core values do you identify with most?
Integrity. While I feel that I identify with all of CDM Smith's core values, I believe a strong foundation based on integrity provides the fundamental stability for all other values.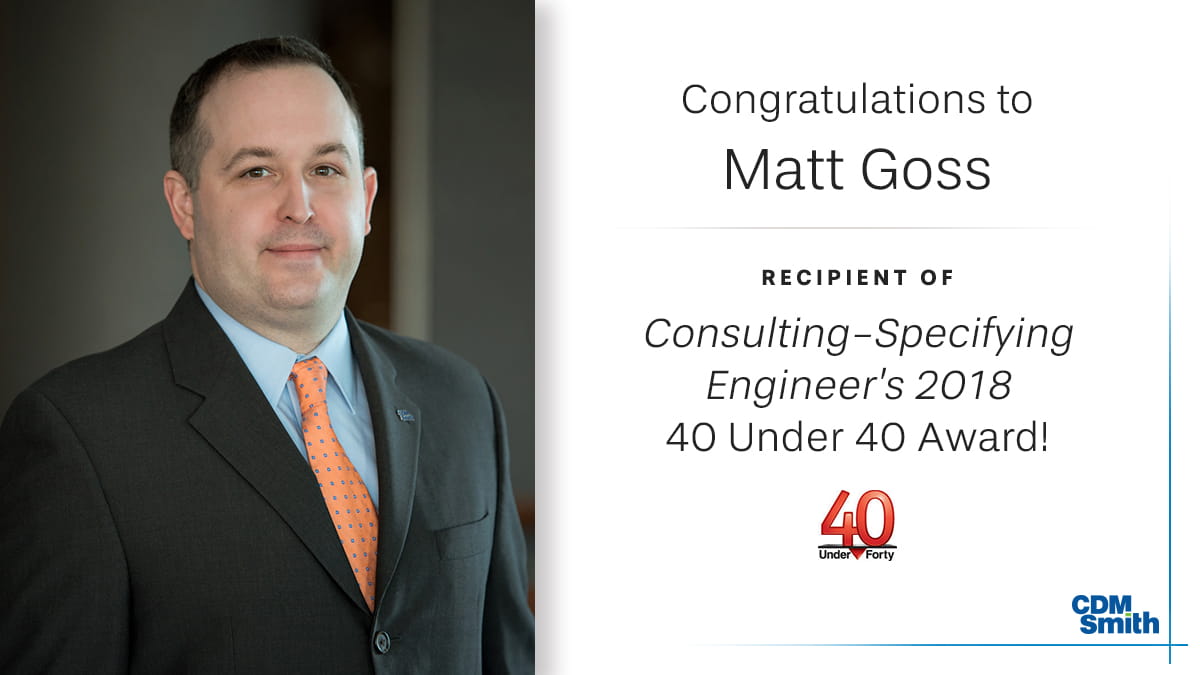 By always learning and doing something new, I can better identify solutions to our clients' challenges.
Expert

Connect with Matt
energy@cdmsmith.com
Ask Matt how he can put his powerful energy and mechanical expertise to work for you. 
Contact Matt