Combined Remedies Solve One Town's PFAS Problem
Combined Remedies Solve One Town's PFAS Problem
The Ayer Department of Public Works finds its answer to PFAS via multiple adsorption tech­nolo­gies at two treatment plants.
Mark Wetzel, Department of Public Works (DPW) super­in­ten­dent for the town of Ayer, MA, first learned about PFAS in 2016, when a former colleague working for a town on Cape Cod asked him if he'd ever sampled for the compounds. It was an odd question, since he knew PFAS were still unregulated and not much was known about the man-made, "forever chemicals." "We didn't have to test for that at the time," Wetzel remembered.
From colonial militias to the U.S. Army Reserve, the land encom­pass­ing Ayer has played host to military outfits since as far back as the 1650s. Officially incor­po­rated in the late 19th century around a bustling railroad junction, the Ayer of today is largely char­ac­ter­ized by its quiet, safe neigh­bor­hoods, strong links to its industrial heritage, and appre­ci­a­tion of natural resources. In short, it resembles a lot of small, American towns. And like many American towns, Ayer discovered traces of PFAS in its water wells.
Soon after Wetzel first learned about the cont­a­m­i­nants, the Army Corps of Engineers found concen­tra­tions of several compounds at a nearby Superfund remediation project site. Facing PFAS levels above the national advisory, town officials acted quickly to treat the affected wells. Today, they are on the verge of construct­ing the second of two new PFAS treatment systems.
new Mass­a­chu­setts MCL for PFAS
20 ppt
new Mass­a­chu­setts MCL for PFAS
$
million
grant money received from U.S. Army for treatment upgrades
$
4.4
million
grant money received from U.S. Army for treatment upgrades
duration of water treatment upgrade design process
4 mos
duration of water treatment upgrade design process
A Solution with Foresight
Though early samples from the town's Grove Pond wellfield—the source of most of the town's drinking water—showed a total concen­tra­tion of perflu­o­rooc­tanoic acid (PFOA) and perflu­o­rooc­tane sulfonate (PFOS) below the 70-parts-per-trillion (ppt) national advisory, Wetzel was aware that the state of Mass­a­chu­setts would be adding new PFAS compounds to the watchlist, which would likely push the town above the recommended threshold.
He and his team reached out to CDM Smith, which had already been providing wastewater services to the town and had presented on PFAS experiences at a recent water conference. "I needed to get an idea of what we were going to have to do, so we could start budgeting," he said. CDM Smith signed on to perform a preliminary PFAS treatment study, including a national PFAS regulatory summary. Meanwhile, the Ayer Department of Public Works (DPW) achieved acceptable PFAS levels by increasing use of the non-affected wells and adjusting existing operations at town treatment plants, combining the affected water sources with cleaner supplies.
During the preliminary study, the state added more PFAS variants to its official advisory, and it became clear that any treatment approach would need to be able to remove a larger suite of PFAS than PFOA and PFOS. "The MCLs keep ratcheting down and the number of compounds keeps going up," Wetzel said. "We had to make sure we had a solution that could meet all the anticipated regulations."
CDM Smith responded with a more stringent treatment goal for the future facility and coordinated with Ayer to sample for a longer list of PFAS analytes. The team devised a testing plan to analyze and study all PFAS detected in the source water. Most of Ayer's drinking water was treated at the Grove Pond plant, which treated water from three active wells before delivering it to residents. Despite the lack of binding regulation, the Ayer DPW decided to remove one of the wells showing elevated PFAS levels from service, heightening the sense of urgency behind the project.
What we're finding with PFAS is that there's no one-size-fits-all.
The Ayer project team started comparing available tech­nolo­gies. Granular activated carbon (GAC) was the most common solution for PFAS cont­a­m­i­na­tion at the time, but scientists had also been testing the efficacy of anion exchange resin (AIX) with positive results. To select the optimal technology for Ayer's water chemistry, the project team decided to pit the tech­nolo­gies against one another at the bench scale in CDM Smith's Bellevue Research and Testing Laboratory.

In addition to selecting a treatment method, the project team also had to consider where in the existing water treatment train they would put the new system. "That's a big consid­er­a­tion," said Al LeBlanc, CDM Smith senior envi­ron­men­tal engineer and project manager for the Ayer PFAS solution. "We just wanted to find what worked best for this client."
From a desktop analysis of the available data, the team was intrigued by the option to treat source water upstream of greensand filters. Ultimately, though, they decided that the high inorganic levels could interfere with the PFAS treatment effec­tive­ness. The project team narrowed the possi­bil­i­ties to three promising scenarios to be tested by the researchers in Bellevue, all of which placed PFAS treatment downstream of the greensand.
Through rapid small-scale column testing, the project team selected a standalone AIX process as the most efficient option. Bench-scale tests performed in the lab allowed the project team to land on a winning solution much faster than if they had run a full-scale pilot.
With a vetted solution in hand, the team rapidly completed full-scale designs for the Grove Pond Treatment Plant upgrade. "Our entire design process took four months," recalled CDM Smith envi­ron­men­tal engineer Ji Im. "That was a pretty significant challenge, but we did it success­fully." Construc­tion has started on the Grove Pond AIX upgrade, which will be the first of its kind in the state to treat PFAS. That would take care of roughly 60 percent of the town's drinking water, but PFAS have also shown up in the town's other main water supply.
New Source, New Solution
Ayer supplies the rest of its drinking water from the Spectacle Pond plant, an entirely separate groundwater source. Because this plant's water supply is located in a different aquifer than the Grove Pond wellfield, it was a surprise to Ayer to find PFAS there. While some conditions resembled Grove Pond, there were enough disparities in the source water quality and aspects of PFAS treatment that are still not fully understood or inves­ti­gated by the industry to prompt the project team to return to the lab. This time, however, it was GAC that came out on top. Bench-scale results indicated that AIX would not have performed as well hydrauli­cally at the Spectacle Pond site as it did at Grove Pond.
"Serious media clogging would've happened, so we're glad that we conducted the bench-scale test at the lab," said Zoom Nguyen, CDM Smith envi­ron­men­tal scientist and manager of the Bellevue Research and Testing Laboratory.
"It used to be the case that you could re-purpose solutions and put them everywhere," Wetzel said. "What we're finding with PFAS is that there's no one-size-fits-all." Full-scale design of the Spectacle Pond plant to house the GAC upgrade is underway.
Wetzel attributed the successful PFAS strategy to a collab­o­ra­tion between his DPW, state and federal agencies and CDM Smith. "You really have to look at what the different options are with respect to your operations, your water quality, the expertise of your staff," he said. "I know I'm getting good technical information and advice, and if I ask questions, I get the answers I need."
Currently, the Massachusetts MCL for six PFAS in drinking water is 20 ppt. The project data collected in Ayer have been shared with state regulators and through regional and national conferences, contribut­ing quan­ti­ta­tive data for poli­cy­mak­ing. CDM Smith is working in other states, as well, designing treatment systems and providing formative research on the pervasive threat of PFAS.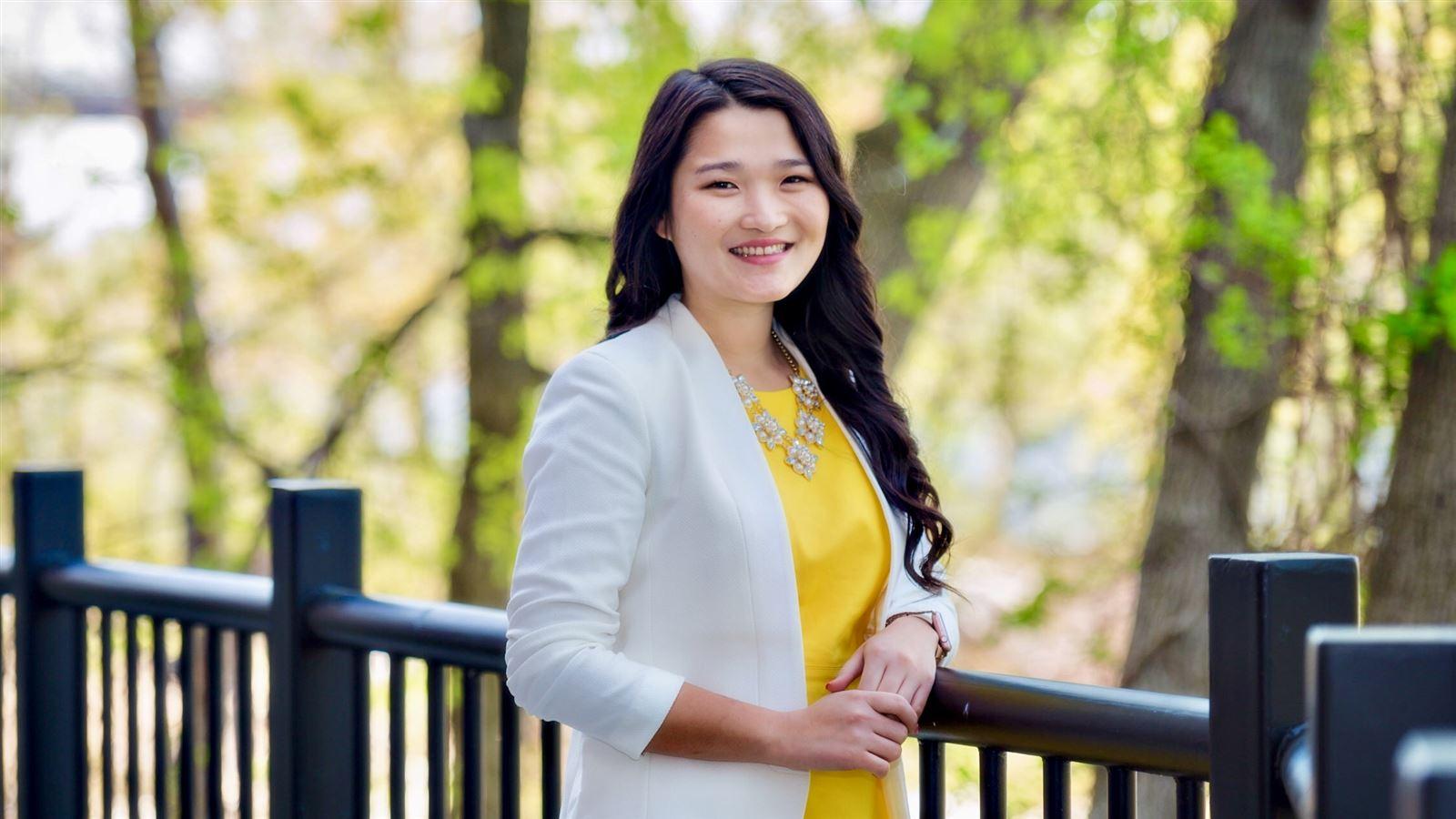 I'm inspired by the purpose of making positive impacts to those around me and the communities I work with.