New PFAS Regulations: Keys to Compliance
Insight
New PFAS Regulations: Keys to Compliance
The U.S. Envi­ron­men­tal Protection Agency (EPA) proposed drinking water limits for PFOA and PFOS, as well as four additional analytes tied to adverse health effects. The new maximum contaminant levels (MCLs), far below the previous national advisory limit, represent the U.S. Government's first enforceable regulatory action to address PFAS.
On March 14, 2023, the U.S. Envi­ron­men­tal Protection Agency (EPA) proposed the first enforceable drinking water limits for six PFAS tied to adverse health effects, including PFOA and PFOS indi­vid­u­ally and four additional PFAS (PFBS, PFHxS, PFNA, GenX) in a mixture. The proposed rule would require public water systems to monitor for PFAS at some of the lowest levels ever regulated in parts per trillion. It also would require water systems to notify the public of PFAS cont­a­m­i­na­tion and take action, if needed. The announce­ment set off a flurry of responses from communities, industries, and stake­hold­ers worldwide, who are wondering how this new regulatory framework will function.
"This is a significant decrease," says Ian Ross, our PFAS practice leader. "The regulations mark an important shift in how we address these specific PFAS, not only in how we find and record them but in how we remove them efficiently."
The regulations mark an important shift in how we address these specific PFAS, not only in how we find and record them but in how we remove them efficiently.
Monitor, Notify and Reduce
"There will likely be a lot of public concern over the numbers coming out of this proposed rule," says CDM Smith PFAS and toxicology expert Heather Lanza. Lanza believes that community engagement and talking with stake­hold­ers is critical to help allay public concerns and address the complex­i­ties around under­stand­ing, monitoring, and treating PFAS.
The proposal, if finalized, specif­i­cally targets PFOA and PFOS as individual cont­a­m­i­nants and will regulate four other PFAS—PFNA, PFHxS, PFBS, and GenX Chemicals—as a mixture. This is the first instance of a US based drinking water regulation employing a hazard index (HI) approach; the HI is designed to account for exposures occurring to multiple PFAS at once.
Numerical levels for compliance
4.0 ng/L or ppt MCL

PFOA

4.0 ng/L

or ppt MCL

PFOS

1.0 (unitless NOT 1ppt)

Hazard Index (HI) for a mixture of

PFNA, PFHxS, PFBS, and GenX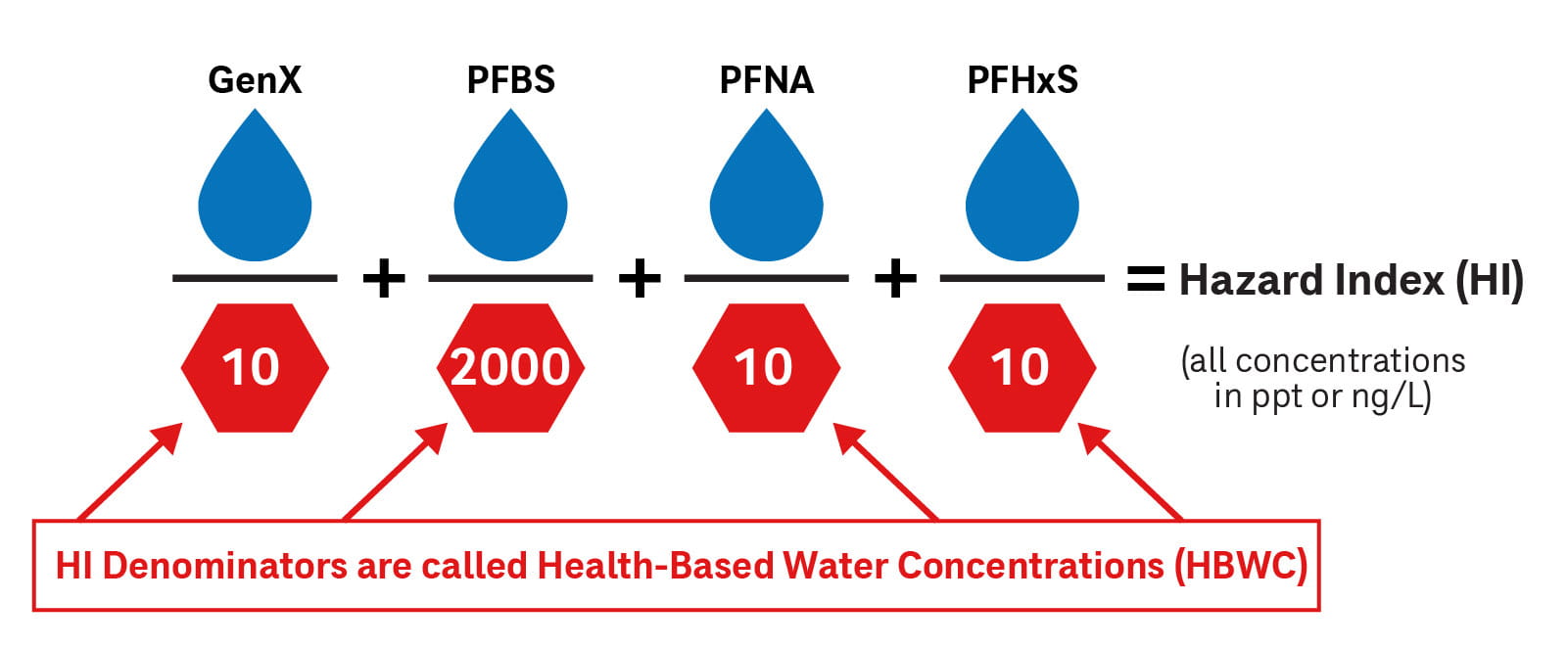 To arrive at the hazard index for the separately categorized PFAS quartet (PFNA, PFHxS, PFBS and GenX) EPA relied on toxicity data to determine the unique denom­i­na­tors for each compound.
"Some studies have shown that rainfall in parts of the U.S. has exceeded these levels," says Ross. "There needs to be some consid­er­a­tion that we already have a widespread distri­b­u­tion of PFOA/PFOS at these levels, and that may impact what sites need to be cleaned up because it is also refreshing from rainfall."
No exemptions have been provided thus far, but EPA has proposed reduced monitoring oppor­tu­ni­ties for water systems that report consecutive samples at compliant levels.

Even if the drafted regulations become final, PFAS remain a moving target. For instance, more compounds could be added to the list as toxicity assessments for PFBA, PFHxA, and PFDA are underway by EPA. And tech­nolo­gies for sampling, removing and destroying PFAS are constantly evolving. Currently, the list of Best Available Tech­nolo­gies from EPA for removing PFAS from water includes granular activated carbon (GAC), anion-exchange resin (AIX) and high-pressure membranes (Nanofiltration/Reverse Osmosis).
Via its Strategic Roadmap, EPA has also been pursuing a cate­go­riza­tion approach. Informed by structure, mechanistic and toxi­co­ki­netic information, this would allow EPA to employ predictive math­e­mat­i­cal techniques to estimate the phys­io­chem­i­cal properties of PFAS in cases where data are unavailable.
Under the HI approach, additional PFAS can be added over time once more information on health effects, analytics, exposure and/or treatment becomes available.
Best Available Tech­nolo­gies (BATs) 
Effective tech­nolo­gies do exist to remove PFAS in water to below the proposed limits, but the identified BATs have challenges. All of the BATs rely on separating PFAS from the water stream and trans­fer­ring it to media or into concen­trates, which then must be managed or disposed. None of these treatments destroy PFAS, resulting in risk that they can be re-released into the environment.
In addition, disposal of spent media is becoming increas­ingly difficult as traditional options (e.g., landfilling) is becoming more restrictive for PFAS-impacted waste. Ongoing work is being done to develop approaches that can cost-effectively remove and destroy PFAS, providing a permanent solution. In addition, the performance of sorption BATs (GAC, AIX) is highly dependent on the site-specific water chemistry with foulants (e.g., carbon, metals) and the low PFAS regulatory limits signif­i­cantly affecting media usage rates. Site-specific bench and pilot studies are needed to select the most appropriate approach and design cost-effective systems to meet treatment objectives.
Once the draft rule is posted on the Federal Register, stake­hold­ers have 60 days to submit comments to EPA. EPA will hold a public hearing on May 4, 2023 where the public, including water systems, can provide verbal comments on the proposed rule. The rule is targeted to be finalized in early 2024.
These efforts take time, and the proposed rule would require compliance (i.e., systems would need to be evaluated, designed, built, and operational) within three years of the rule becoming final. Therefore, the clock is ticking for many water providers who currently exceed the proposed limits.
For immediate and compre­hen­sive compliance support, the CDM Smith team of PFAS experts is available and ready to help.
PFAS MCLs: What You Need to Know
The CDM Smith PFAS team breaks down the latest draft regulations for PFAS in this factsheet.
download

Opens in new window.
Webinar
Breaking Down EPA's MCLs: The Webinar
https://www.cdmsmith.com/en/Webinar/PFAS-Maximum-Contaminant-Levels
Watch this webinar breaking down the EPA's Maximum Contaminant Levels (MCLs) and how they will affect drinking water, existing state regulations, and their potential future impacts.
Watch Now
Risk and Toxicity Specialist
Risk and Toxicity Specialist
Risk and Toxicity Specialist
Risk and Toxicity Specialist