Extended Reality: Not Just for Gamers
Insight
Extended Reality: Not Just for Gamers
Extended reality has become a saving grace for facilities looking to provide essential workers with safe and unin­ter­rupted access to critical data—but it's not a "one size fits all" solution. Our experts unpack the benefits and outline the consid­er­a­tions to keep in mind to assist you in choosing the best solution for your needs.  
The global response to slow the spread of COVID-19 catapulted us into an enhanced digital environment overnight. While many adjusted seamlessly with virtual meetings and remote collab­o­ra­tion, other "essential" facilities were left to juggle safe­guard­ing their indis­pens­able frontline workers with operating and maintaining unin­ter­rupted service delivery. They have turned to Extended Reality (XR) and wearable devices to reduce risks in the delivery of essential services.

Wearable devices range from lightweight "Remote Advisor" glasses or lenses where the user can see his or her surround­ings to fully immersive headsets that transform the user to a virtual world. This technology can be paired with XR software to equip facility and equipment operators with knowledge-rich content while they are on site. For example, virtual information can be projected within the surrounding physical environment to deliver context-specific data using the Microsoft HoloLens. This system can provide frontline workers with an interactive first-person perspective of all relevant resources, including models, manuals and operating procedures.

The benefits of using XR are not limited to viewing information that provides building and facility operators with a solution that promotes consistent and quality operations in today's society. Further advantages include:
Combating Staff Shortages: The threat of COVID-related staff shortages has affected thousands of industries, but perhaps none more profoundly than workers in healthcare facility operations, water and utility services, and data distri­b­u­tion centers where the demands to maintain critical infra­struc­ture are paramount. Fewer frontline workers required doing even more with less, and during an emergency or equipment malfunction, staff often do not have time to flip through pages of docu­men­ta­tion to locate the resolution or process. Equipping staff with XR-powered solutions allows them to view the sequence of steps necessary to solve their given issue. New or substi­tut­ing staff aiding skeleton crews can quickly become proficient and integral members of the team.

Providing Remote Assistance: XR is solving the knowledge delivery challenge imposed by social distancing by enabling seasoned operators and technicians with many years of experience–who may be in identified high-risk categories–to train new generations of operators and technicians without physically being together. Facility operators can share their views or trou­bleshoot problems through wearable technology, share opinions through annotations of views and chat or add trainees dialed in remotely to learn or watch a process.

Promoting Two-Way Collab­o­ra­tion: Some XR solutions on the market today offer remote collab­o­ra­tion func­tion­al­ity that captures high-quality images despite low connec­tiv­ity/low bandwidth envi­ron­ments, such as in building basements and rooftops. This solution promotes real-time, two-way collab­o­ra­tion and annotation of field-captured images, allowing up to 20 partic­i­pants to simul­ta­ne­ously view real-world conditions while remaining physically distanced. In this critical coronavirus era, delivering frontline workers with virtual workforce capa­bil­i­ties reduces their risk of exposure by providing them with a contactless way to capture and transfer pivotal insti­tu­tional knowledge.

Delivering Hands-Free Func­tion­al­ity: Extended reality eliminates the need for workers to leave their equipment when a problem arises. Instead, operators can pull in context-specific information like on-demand instruc­tions, graphics, checklists, trou­bleshoot­ing guides, and diagrams with the click of a button. This shift to a paperless and hands-free environment is ideal for conveying information with maximum retention, especially as the "digital generation" enters the workforce.
Thinking About ER? Considerations to Assist You 
XR's ability to assist with solutions to challenges facing us is undis­putable, but it's important to remember that the right XR solution is one that works for you. After deciding on cost (which is often the most important factor in the decision-making process), here are some other questions you should discuss with your consultant to ensure you find the right solution for you.
Ease of Use
How intuitive is it to operate?
How long will it take to teach staff and operators to use?
Durability
How long does the battery last?
How will the device perform on site, partic­u­larly in extreme temper­a­tures?
Technical Require­ments
How much bandwidth does it have/need?
What connection type does it require?
Do I need a power cord? How about any other cords?
Interface Integration
Can I wear a hard hat while operating the software?
If applicable, do I operate the device with one eye or two eyes? How does that impact my orga­ni­za­tion's safety protocols?
Is the device voice-controlled?
Does it work with an app on my phone/tablet, or is it remote powered?
Security and Compliance
After my data has been collected, where does it go?
Should I expect any problems while traveling inter­na­tion­ally (i.e. clearing customs)?
Is this solution GDPR-compliant?

Many essential facilities have turned to Extended Reality (XR) and wearable devices to reduce risks in the delivery of essential services.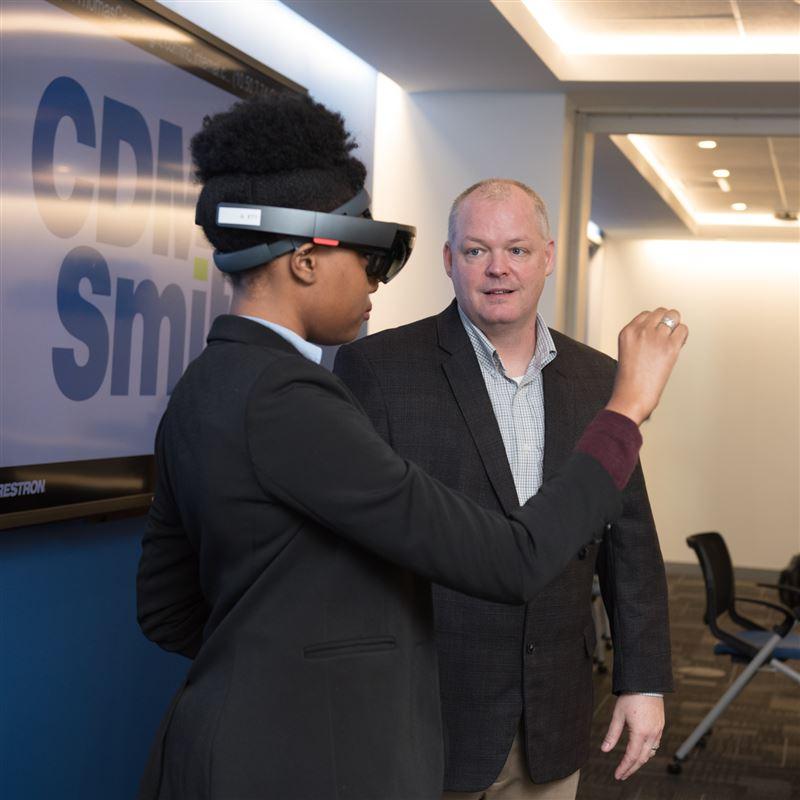 Getting Started with XR
Finding the right technology solution for your orga­ni­za­tion can be over­whelm­ing, but we're here to help. Our experts will work with you to advance your goals. Let's get started together.