ICPMA Award recognizes excellent services in Project Management
News
ICPMA Award recognizes excellent services in Project Management
27 June 2023
At this year's ICPMA Awards (International Construction Project Management Association Awards) held at the Bundeswehr University in Munich, we celebrated an extraordinary achievement. CDM Smith received the prestigious Sustainability Award for outstanding contribution to the Gridbooster Kupferzell project.
The Gridbooster Kupferzell is being constructed in north­east­ern Baden-Württemberg (Germany) as the world's largest grid battery storage project with a total capacity of 250 MW, covering an area of 4.5 soccer fields (approx. 34,000 m²). The battery storage facility works as a pilot project for ensuring a stable and efficient energy supply network in Germany. CDM Smith is responsible for the compre­hen­sive planning and engineering services for structural and civil engineering, groundwork and concrete construc­tion, including construc­tion works. This also includes the execution planning as well as structural engineering of all buildings on the site. In the course of execution planning, CDM Smith also developed a 3D model (BIM) of the future network amplifier site, and will contin­u­ously revise this during the construc­tion phase.
We are tremendously proud we had the opportunity to make such a significant contribution to Germany's national energy transition.
At the award ceremony, Constantin Prins, PhD (Project Management) as well as Benjamin Bartsch and Lukas Wallrabe (Business Development) accepted the prize in the presence of our client Fluence, represented by Timothy Frantz.
https://www.icpma.net/awards/award-winners-2023-munich
The ICPMA Awards are prestigious awards honoring excellence and innovation in project management. For many years, it has recognized companies and orga­ni­za­tions that demonstrate exceptional expertise and dedication to providing outstanding solutions in the construc­tion and infra­struc­ture industry.
Award Winners 2023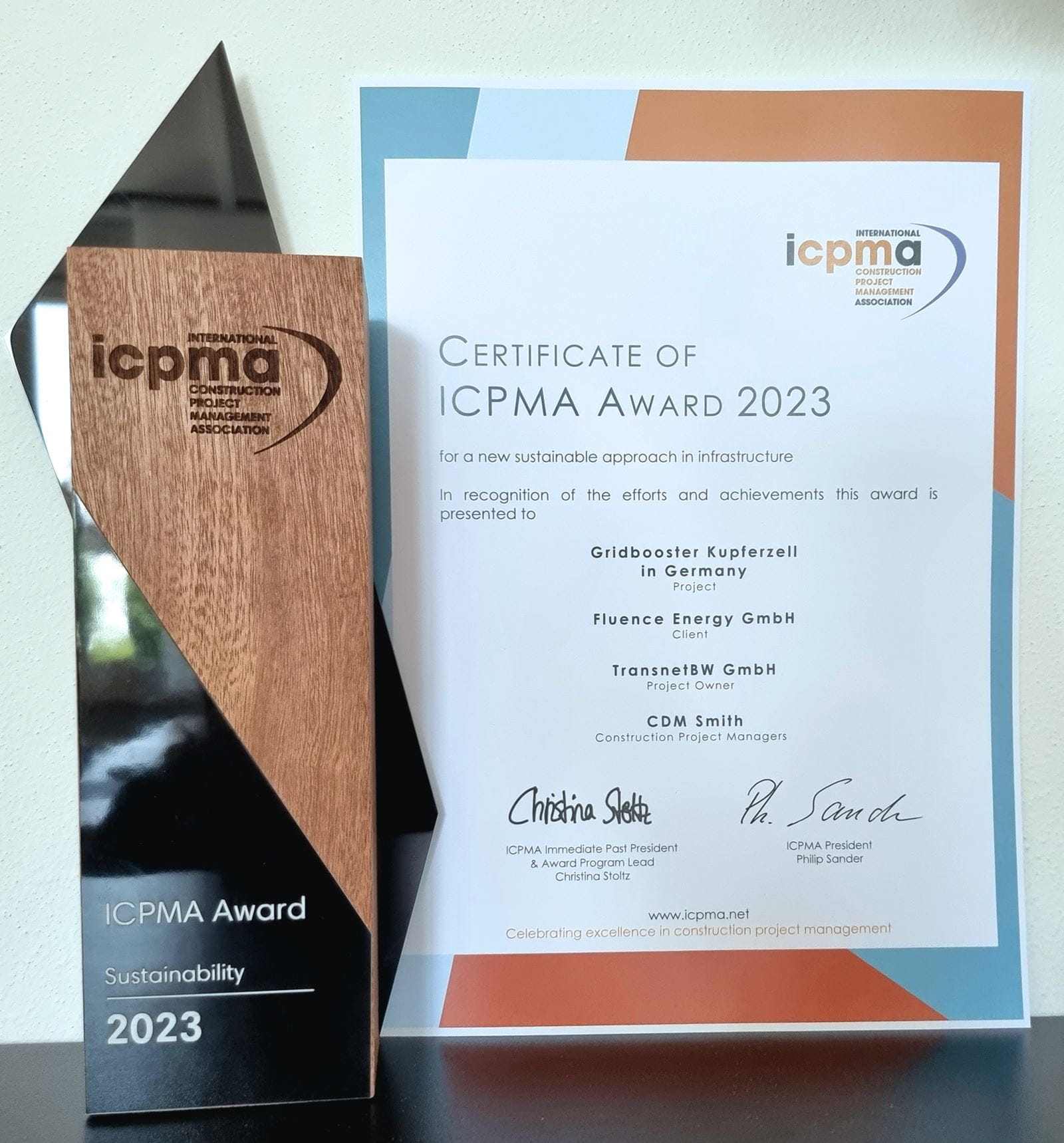 CDM Smith is a privately owned engineering and construction firm providing legendary client service and smart solutions in water, environment, transportation, energy, and facilities. Passionate about our work and invested in each other, we are inspired to think and driven to solve the world's environmental and infrastructure challenges.