News Item
Texas Land Commissioner George P. Bush Cuts Ribbon on Award-Winning Galveston Wastewater Treatment Plant
October 6, 2016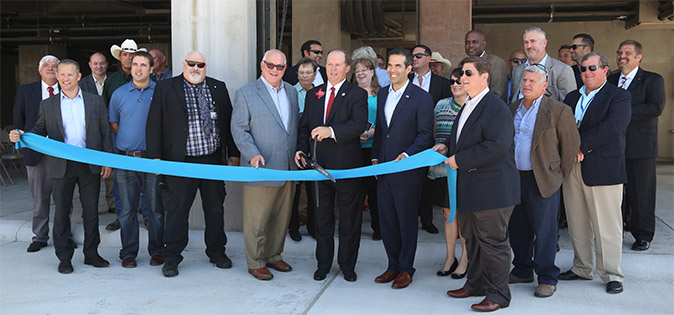 From L to R: Jason Venier, Client Service Leader (CDM Smith); Chris Varnon, Senior Process Mechanical Engineer (CDM Smith); Brent Nicholas, Senior Project Manager (CDM Smith); Mayor Jim Yarbrough (City of Galveston); State Representative Wayne Faircloth (District 23); Texas General Land Commissioner George P. Bush
GALVE­STON, Texas – Texas Land Com­mis­sioner George P. Bush and the city of Galve­ston cel­e­brated the com­ple­tion of a new $85 million waste­water treat­ment plant (WWTP) on Wednes­day, Sep­tem­ber 21st, 2016. Built to replace an earlier facility damaged by Hur­ri­cane Ike in 2008, the new plant features re­siliency and hard­en­ing im­prove­ments to help resist a sub­stan­tial storm surge. As the largest storm recovery project financed by the General Land Office through federal disaster aid, the new Galve­ston WWTP not only replaces damaged in­fra­struc­ture, but also mit­i­gates against future dis­as­ters. The new plant will reliably treat Galve­ston's waste­water, serving the city's citizens on a daily basis.
It's not only important to finish out grants from the federal government, but to protect your assets. As we celebrate today, we've got to think about the future.
"When you think about the coast over the long term, it's not only important to finish out grants from the federal government, but to protect your assets," said Land Commissioner George P. Bush at the dedication ceremony, per the Galveston Daily Progress. "As we celebrate today, we've got to think about the future."
Given its vulnerable coastal location, the Galveston WWTP was designed by CDM Smith with Commissioner Bush's advice in mind.
All water-bearing structures are designed to resist flood waters at or above the 100-year flood elevation, plus 3 feet of wave action
All electrical components are located at or above the 500-year flood elevation, and all electrical conduits below the 500-year flood elevation are water-tight.
Every structure is designed to account for 140-mph winds. The facility is equipped with back-up power generation in the event of an outage.
The treatment system is designed with isolation gates to prevent seawater intrusion in the event of seawater inundation; in other words, the biological processes that treat wastewater will be protected from sea water even in the event of a truly massive storm.
In addition to its remarkable resiliency features, the Galveston project was carried out using cutting edge Virtual Design and Construction (VDC) technology. The use of VDC tools greatly aided the CDM Smith team and the City throughout the project, from visualizing the end product during design, to detecting and resolving potential constructability concerns before they arose. in the team also employed VDC to develop a detailed construction sequencing plan, which was critical to the success of the project. In recognition of the CDM Smith's innovative delivery, the project was internationally recognized with a Bentley Be Inspired award for "innovative use of information modeling and best practices [that] has resulted in a legacy of intelligent, better-performing infrastructure."

CDM Smith vice president and project manager Brent Nicholas cited the stewardship of Commissioner Bush, the Texas General Land Office and Galveston in overseeing the award-winning project as vital to its success, while also crediting the WWTP's operations team, which he called "the true heroes of this project" for their tireless efforts in maintaining operations during construction.

CDM Smith provides lasting and integrated solutions in water, environment, transportation, energy and facilities to public and private clients worldwide. As a full-service engineering and construction firm, we deliver exceptional client service, quality results and enduring value across the entire project life cycle.