News Item
Connecticut DOT Selects CDM Smith to Provide Services for Interstate 84 Danbury Project
January 9, 2017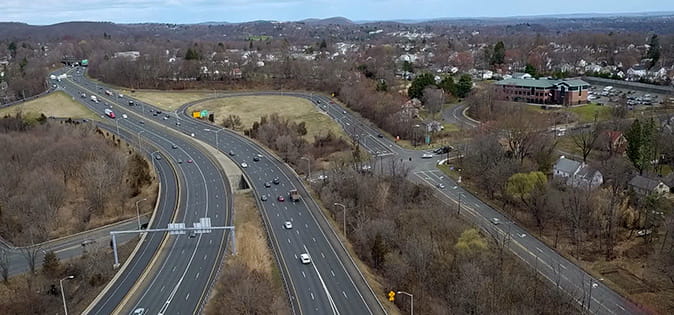 HARTFORD, Connecticut—CDM Smith is proud to announce a recent project win with the Connecticut Department of Trans­porta­tion (CTDOT). The firm was chosen to provide preliminary engineering and design services and an alter­na­tives analysis for improve­ments along an 8-mile stretch of Interstate 84 (I-84) from Exit 3 to Exit 8 in Danbury, Connecticut.

Since its construc­tion in the 1960s, this particular section of I-84 has posed several issues regarding func­tion­al­ity and traffic flow. Over the past several years, CTDOT has also been dealing with substantial safety issues with respect to traffic weaving, congestion and reported accidents in the area. According to CDM Smith senior trans­porta­tion planner and alter­na­tives analysis lead Donald Vary, the alter­na­tives evaluated will be measured by how they address access issues, operational inef­fi­cien­cies and increasing maintenance costs for the aging infra­struc­ture.

The project's construc­tion zone covers a strategic economic corridor for the state, which serves as an interstate connector for trucking and commerce in the mid-Atlantic region. In addition to its economic signif­i­cance, the expanse is also a major recre­ational corridor for those traveling to various desti­na­tions along the east coast.

This project win comes out of a recent program evaluation CDM Smith completed for Connecticut Governor Dannel Malloy's strategic long-term trans­porta­tion plan, "Let's Go CT!" As part of a 30-year vision for Connecticut's trans­porta­tion system, "Let's Go CT!" outlines the investments necessary to make the state's trans­porta­tion network safer, more reliable and more responsive to 21st century lifestyles and economic oppor­tu­ni­ties. Over the next 5 years, Connecticut will work to revitalize its aging trans­porta­tion system and thus revitalize the state's economy as part of the program.

"We're excited to continue our partnership with the Connecticut DOT and help improve the economic lifeline of this roadway," says CDM Smith client service leader Paul Schmidt. "Our team understands the signif­i­cance of a major project like this, and we know its positive impact will be felt throughout all aspects of the community."

CDM Smith provides lasting and integrated solutions in water, environment, trans­porta­tion, energy and facilities to public and private clients worldwide. As a full-service engineering and construc­tion firm, we deliver exceptional client service, quality results and enduring value across the entire project life cycle.